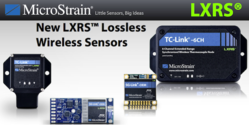 MicroStrain's LXRS™ sensing solutions support high-performance monitoring without the need for hardwires
Williston, VT (PRWEB) September 20, 2012
MicroStrain's LXRS™ wireless sensor network combines a groundbreaking lossless data wireless communication protocol with ultra-stable precision time sync and network scalability.
As a result, MicroStrain sensing solutions provide the reliability of hardwired systems with wireless simplicity and cost savings.
LXRS™ supports a broad range of measurement capabilities including acceleration, displacement, environmental, and most analog sensor inputs.
Now, the LXRS "Lossless" protocol is supported on even more MicroStrain wireless sensors.
New LXRS Wireless Sensing Solutions include TC-Link® wireless thermocouple nodes as well as SG-Link®-OEM wireless analog sensor nodes.
LXRS enables MicroStrain wireless sensors to provide 100% packet success rate under most operating conditions while maintaining extended range radio link to 2 kilometers, supporting continuous, burst, and hybrid sampling modes, and maintaining time synchronization within +/- 32 microseconds.
In addition to more reliable data throughput, MicroStrain's wireless thermocouple and OEM nodes provide interoperability with other LXRS wireless acceleration (G-Link®), displacement (DVRT-Link®), environmental monitoring (ENV-Link®), and multi-channel analog (V-Link® and SG-Link®) sensor nodes. Users benefit from greater wireless sensor network configuration options that easily adjust and scale their unique applications.
Synchronized data collection, combined with robust and reliable data acquisition, allows users to select lower sampling rates and reduced RF power levels. This leads to longer battery lifetimes and also enables energy harvesters to be used in place of primary batteries.
"Wireless sensor networks are a key element to supporting smart structures, advanced manufacturing, industrial machinery, environmental monitoring, and vehicle health," says Steven Arms, Director, Business Development, Sensing Systems at MicroStrain, a LORD Company. "By enabling data collection from scalable sensor networks without loss of information, MicroStrain's LXRS™ solutions support high-performance monitoring without the need for hardwires."
MicroStrain, A LORD Company based in Williston, Vermont, USA, is a leading manufacturer of sensing systems for demanding industrial and aerospace applications. Our range of sensing solutions include inertial measurement systems, micro-displacement transducers, wireless sensor networks, and energy harvesting technologies. MicroStrain's sensors are used in a variety of industrial, defense, and medical applications including testing of new designs, controlling critical manufacturing processes, navigating unmanned vehicles, platform stabilization, wearable tracking systems and wirelessly monitoring machines, structures, and environments. MicroStrain's newest sensor data storage, visualization, and remote management platform, SensorCloud®, leverages powerful cloud computing technologies to provide sensor data to users anytime, anywhere. Recognized as a leader in the sensor industry, MicroStrain has received multiple awards for product innovation.
Visit http://www.microstrain.com to learn more about our company, products, and solutions.