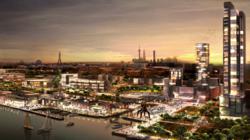 [Sasaki's work in China] reflects the nation's increasingly urban context and progressive attitude towards design.
Watertown, MA (PRWEB) September 20, 2012
International planning and design firm Sasaki announces the opening of their new office in Shanghai, China. The office bolsters the firm's commitment to China and the larger Asia-Pacific region.
Since their first project on the mainland 14 years ago, Sasaki has maintained a strong presence at the forefront of planning and design in China. The Shanghai office will support ongoing and future work in the region, where the firm is addressing a wide variety of design challenges and opportunities in the world's fastest urbanizing society.
"The Shanghai office is the culmination of many years of experience of working in China, and will help us collaborate even more closely with our clients in Asia," says Sasaki principal Michael Grove, who leads the majority of Sasaki's work in China. "The location symbolizes our long-term commitment to the region, and allows us to offer our broad range of planning and design services to a part of the world that is witnessing dramatic shifts in its urban environment."
Sasaki's work in China is already some of the most recognized in the country. Their projects reflect the nation's increasingly urban context and progressive attitude towards design—evident in award-winning designs for the 2008 Beijing Olympics, the 798 Arts District, the National Creative Cluster, the Jinan New Urban District, and Jiading Central Park in Shanghai, which will open to the public this fall. Each of these projects serves as an innovative, sustainable, and culturally relevant model for development—a commitment Sasaki brings to all of their work.
About Sasaki
Sasaki (http://www.sasaki.com) is an integrated planning and design firm committed to realizing thoughtful, sustainable solutions to our clients' unique problems. Drawing on the collaboration and diversity of ideas that defines our interdisciplinary firm, our teams take a personal approach to creating award-winning spaces and places for our institutional, civic, and commercial clients. Sasaki is a mid-sized firm of professionals working throughout the United States and internationally from our headquarters in Boston and our office in Shanghai.