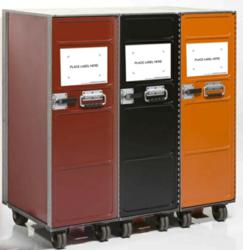 Appearance, functionality, time savings, and label customization are a few of the benefits of the Kennedy Placard Label Holder.
Cleveland, Ohio (PRWEB) September 19, 2012
The Kennedy Group, a leading provider of packaging, labeling, and identification solutions, is now supplying the airline industry with the company's Original Placard Label Holder. Used on in-flight catering service carts, the placard provides commercial airlines and food service providers with an efficient, versatile, and cost-savings way to label and track service carts.
Over 2000 customers worldwide in the automotive, chemical, medical, and pharmaceutical industries, to name a few, use The Kennedy Group's Placard Label Holder. The same benefits enjoyed by these industries will now be realized by the airline industry.
A leading European airline recently selected the new Placard Label Holder and labels for its in-service trolleys. The Placard Label Holder is easy to apply, adheres permanently to service carts, and allows for the easy removal and replacement of labels. This keeps carts clean and professional looking at all times.
"Our Placard Label Holder provides multiple functions and benefits in airline applications with service carts," explained James Ward, director of marketing for The Kennedy Group. "Appearance, functionality, time savings, and label customization are a few of the benefits."
Placard Label Holders from The Kennedy Group:

Improve Appearance – Labels are placed on placard holders and can be easily removed and replaced, eliminating label build-up and adhesive residue.
Are Sanitary and Water Resistant – Placards are designed to prevent food residue build up, meeting food compliance regulations, and will not fall off carts during the washing process. Typically, placards are positioned in the recess of the cart door, mitigating contact with washing nozzles.
Save Time – Labels need to be removed and replaced after every flight, usually several times per day. Labels applied to permanent placards are easily replaced, eliminating time needed to scrape off old labels.
Can be Customized – Placards can be printed with Airline logos to identify carts when labels are not in place.
The durable Placard Label Holder from The Kennedy Group does not break or bend, tear or peel, and is guaranteed for long service life. The placards and labels meet all applicable food service and airline standards.
For more information about the Placard Label Holder and other labeling and identification products available from The Kennedy Group, visit the company's website at http://www.kennedygrp.com.
About The Kennedy Group
The Kennedy Group, a family owned and operated business since 1974, is a leader in providing market-tested and innovative solutions to help customers package, promote, identify and track their products.
Headquartered just east of Cleveland, Ohio, The Kennedy Group is based in an 80,000 square foot corporate facility with global reach to serve and supply our customers in 40 states and seven countries. Our leadership and solutions contribute to the success of customers in the consumer products, automotive, material handling, biomedical, healthcare and chemical industries.
The Labeling and Packaging Division is a high-quality, low-cost producer of pressure-sensitive and roll film products. With multiple printing facilities in Cleveland, Orlando, and Pensacola, The Kennedy Group can handle large volume orders, while providing quick lead times and competitive shipping costs.
The Track, Trace and ID Solutions Division produces the flagship placard label holders, nameplates, and identification products that are applied to reusable containers, racks and storage areas. This division also provides complete RFID solutions, from initial exploratory site planning through implementation and post-implementation maintenance. Kennedy's professional RFID services include hardware, tag selection and application, software and integration.
The Direct Response Products Division is the leader in front-page advertising solutions, offering an assortment of colorful, stick-on notes, booklets, and cards that function as impactful, removable advertisements on the front pages of more than 600 newspapers nationwide with a circulation exceeding 40 million.
To learn more about The Kennedy Group and the products, services, and solutions provided by these divisions, visit http://www.kennedygrp.com.