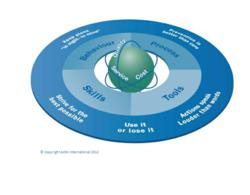 Breakthrough thinking in service operations is focusing on management method as the new brainware being applied by front line managers in leading organizations.
New York, NY (PRWEB) September 19, 2012
Front line managers are the critical link in organizational performance. They are often extremely busy dealing with a range of changing, complex, interrelated demands and challenges. Active Operations Management Methodology enables them to have more responsibility and control over planning and decision making, while at the same time reducing their workload.
AOMi the leader in Professional Service Operations Management Coaching has released a whitepaper titled, "Too Busy Being Busy – Operations Leaders & Skeptics Take Note!" This overview addresses the AOM methodology which enables organizations to increase productivity & balance quality & service at the optimal cost without changing process. This white paper is being released as part of cooperative effort between AOMi & IQPC Process Excellence Network to bring awareness to the issues faced by large service operations organizations especially within Financial Services/Banking, Insurance and Business Process Outsourcing (BPO).
Terry Woods, CEO of AOM North America stated, "Breakthrough thinking in service operations is focusing on management method as the new brainware being applied by front line managers in leading organizations."
In addition, a webinar is slated for October 10th to take a deeper dive into the specifics of why organizations are struggling to enact change that can ultimately lead to productivity improvements previously not able to be achieved. Richard Jeffery a Co-Founder of AOMi will discuss how organizations can gain control of their service operation in order to do more with less.
About AOMi:
Active Operations Management International provides organizations with a structured and consistent operations management capability that is the catalyst for achieving operational excellence.
We recognize that service operations are complex and unique, requiring a structured management approach specifically designed for their environment. Typically, service operations rely heavily on people to convert demand into successful customer outcomes. For this reason, we developed Active Operations Management for service operations, an innovative approach to operations management that ensures that excellent performance is achieved through the creation of a positive and motivational atmosphere. Following a tried-and-trusted process, the implementation of Active Operations Management drives progressive and consistent changes in the behavior of managers, who quickly become confident decision-makers. By applying these principles, professional managers achieve significant performance improvements in their operations.
With global operations in six international regions, AOMi is a world leader in the improvement of performance in service operations. Active Operations Management has been adopted in over 35 countries around the world, with over 40,000 of our clients' employees actively managed by this approach. Our clients, which include many large organizations, recognize the value of consistent operations management. Reflecting our global expansion since our formation in 2005, AOMi was awarded the Queens Award for Enterprise in 2011.