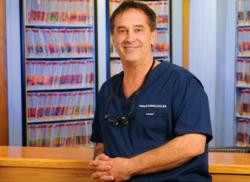 Bradenton, FL (PRWEB) September 18, 2012
Dr. Lindsay B. Eastman knows that people who are missing teeth may also have other serious dental issues that face them. When teeth are missing, the bone begins to deteriorate or resorb; this can cause remaining teeth to move out of alignment and can cause a sunken look to the face. As a periodontist, Dr. Eastman helps patients understand all the options that are available. When bone loss is in the upper jaw, sinus augmentation may be performed, making it possible for a patient to have dental implants placed in the upper jaw.
When teeth are missing in the upper jaw, the bone in that area will resorb or shrink over time. When there is not enough bone left for dental implants to be viable, sinus augmentation may be necessary to adjust the position of the sinus so that additional bone can be grafted into the area. As the bone shrinks, the sinuses naturally expand into the space that is left. The periodontist will select the proper procedure depending on the individual needs of the patient and how much bone remains in the upper jaw.
The basic procedure begins with a local anesthetic, and then the periodontist accesses the sinus cavity through a small opening that is made in the bone. The sinus is moved to its correct position and grafting material is inserted along the bone. The new material meshes with the existing bone and heals in four to nine months.
Once the area is completely healed, the patient is examined to determine if dental implants can be placed. The additional bone should allow for multiple implants to be placed as needed. Implants are usually placed in such a way as to provide the patient with a strong bite. Patients who thought they could not receive implants may want to consider a sinus augmentation procedure to restore missing bone. Once the bone has been restored, implants may be possible. There is more information on the sinus lift procedures and implants at http://www.bradenton-periodontist.com.
Lindsay B. Eastman, DDS, MS, PA is a periodontist offering patients personalized dental care for Bradenton, FL since 1980. Dr. Eastman received his Doctor of Dental Surgery degree from Loyola University Dental School where he completed his Graduate training in Periodontics and his Masters of Science in Oral Biology. He received his Post-Graduate specialty training in Surgical Placement of Implants from Northwestern University Dental School, and completed Business Management Training from Pride Institute. He is part of one percent of dental professionals providing the most recent FDA cleared laser procedure for gum disease and periodontal treatment. To learn more about Dr. Eastman and his dental services visit his website at http://www.bradenton-periodontist.com and call (941) 792-3899.