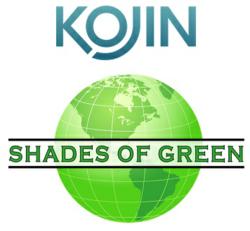 Mississauga, Ontario (PRWEB) September 20, 2012
KOJIN Inc announced today that they would be participating in an upcoming episode of Shades of Green.
KOJIN Inc is a leader in the research, design and manufacturing of energy reducing lighting products. KOJIN Inc helps companies cut costs, save money, and show profitability through their latest and greatest energy saving innovations in the field of lighting technology.
This particular episode will be focusing on advancements in lighting technology. Television audiences will learn about how through the use of energy reducing lighting technology, companies and households can maximize monetary savings today while creating major energy savings for tomorrow.
"Lighting is an exciting field to be in – in every corner of the world, there is always a need for light. R & D will continue to march forward at an ever-increasing pace, with no end in sight," said Ijen Huang, President and Founder of KOJIN Inc. "Most companies in North America are not aware of the urgency that is ushering them towards a state of crises. In July 2012, some industrial and commercial lights have been phased out, as legislated by the U.S. and Canadian governments. Many companies have found themselves in a reactive position, with little preparation. Many more are still operating in a state of obliviousness, only to find themselves caught without supply in coming months."
Huang continued to say that "KOJIN is thrilled to be on the frontier of new research and construction of products that reduce energy consumption, yield better quality light, and low cost to implement. To develop lighting solutions that solve problems of old, tired and inefficient legacy systems is very gratifying. Shades of Green is an outstanding forum to expose the missed communication that ties the legislative intent to the practical implementation by the populace. More importantly, it lends a voice to the many facets of development, in the exciting world of energy saving products."
"KOJIN Inc is setting the tone for a new wave of energy efficient lighting technologies," said Liz Plummer, producer for the series. "This piece will serve as inspiration to a new generation of energy-conscious businesses."
About KOJIN Inc:
Incorporated in 2005, KOJIN set out to develop lighting products that save energy AND yield equal or better quality of light than existing products, while keeping the implementation costs low. Based in Mississauga, Ontario, KOJIN is perfectly positioned to understand the regulatory and lighting requirements of the North American market. With fingers on the pulse of R&D, and eyes on the market, KOJIN consistently delivers innovative options to all consumers.
For more information, visit: http://www.kojininc.com or call 877-236-4260.
About Shades of Green:
Shades of Green is an award winning eco-friendly series strictly devoted to advancements in renewable energy and sustainable living. From biodiesel to wind power, Shades of Green gets up close and personal with the people and organizations dedicated to reducing our dependence on foreign oil and creating a sustainable planet.
For more information visit: http://www.dmgproductions.org or call (866) 496-4065.
Media Contact:
Elizabeth Plummer, Senior Producer
(866) 496-4065 Ext 813