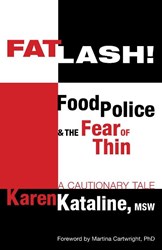 "Sometimes at school when I wiped my eyes with the back of my hand the black mascara from the previous night's performance left a smear on my skin."
Denver, Colorado (PRWEB) September 20, 2012
Before she knew what a calorie was, at the age of seven, child performer Karen Kataline was allowed to have only five hundred of them. Forced into the spotlight by her weight-obsessed mother, Kataline spent her childhood trapped in a world of pageants, performances, and perpetual hunger. She later attempted to use food and weight-gain to shield herself from the eyes that roved her.
With children provocatively posing on shows like Toddlers and Tiaras and the increasing cases of obesity in America, Fatlash! reveals the connection between the exploitation of children, and an unconscious need to use weight as a means of protection.
Kataline's story exposes the truth about putting children on display, and policing what they eat. Now is the time to take action against both--and Fatlash! does just that.
Karen Kataline, MSW, received her master's degree from Columbia University and has practiced in a variety of non-profit and corporate settings. Fatlash! is her first book. For more information visit http://www.karenkataline.com
Martina Cartwright, Ph.D, RD., wrote the Foreword for Fatlash! She is a registered dietitian with a Ph.D. in Nutritional Science and Biomolecular Chemistry from the University of Wisconsin-Madison. She has written extensively about child pageants and eating disorders for Psychology Today Online.