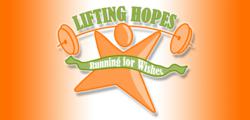 We wanted to create a way that we could bring hope to the families in the Columbus area that were dealing with pediatric cancer everyday.
Columbus, Ohio (PRWEB) September 18, 2012
Lifting Hopes believes that it is important to give children with pediatric cancer and their families hope for their future. To help bring this hope to families suffering with pediatric cancer in the local area Lifting Hopes has created a pump and run in which all of the proceeds go to bringing hope to families that have children with pediatric cancer. This year's Lifting Hopes pump and run will be in New Albany on October 7th.
A pump and run is a fitness event where the participants bench press a percentage of their body weight and then run a 5k. The number of times that the participant completes the bench press takes time off of their 5k run. The winner is then decided by the final time that they have from their 5k after their lifting time has been deducted.
Three years ago when Michael Morgan and Bill Balderaz started Lifting Hopes they wanted to do an event to raise money for pediatric cancer. Since they had both participated in the Arnold Classic pump and run in Columbus they decided to create another pump and run. They thought this would be a great way that people could participate in more pump and runs throughout the year.
"We wanted to create a way that we could bring hope to the families in the Columbus area that were dealing with pediatric cancer everyday." said Balderaz, "We were excited when we thought of the idea of doing a pump and run. It was a way that we could bring together something that we had passion for, giving hope to pediatric cancer families, and something we enjoyed doing, a pump and run."
Each year Lifting Hopes pump and run has a special guest from the weightlifting community that comes and participates in the event. This year's special guest is professional powerlifter Mike Wolfe. Wolfe has been a competitive power lifter since 1995, when he won the first event he entered. He was a dominant force in the sport from 1995-1997, frequently capturing first place in his category. From 1998-2000 he took a break from power lifting to compete as a bodybuilder. He returned to power lifting in 2002.
Wolfe turned pro in 2005 and on May 15, 2005 bench pressed 825 pounds. He became one of the top 10 bench pressers in his weight class in the world and captured second place at the 2007 Arnold Classic World Powerlifting Organization Bench Bash by bench pressing 860 pounds. He was recently chosen to represent Team USA in a global powerlifting event. This year, at the Lifting Hopes pump and run, Wolfe will attempt to bench press 315 lbs for 30 reps.
All of the proceeds from this year's Lifting Hopes pump and run go to Chapel Hill House. Chapel Hill House is a Retreat Home where children that have pediatric cancer can go and spend a retreat weekend with their families. Chapel Hill House believes that time spent with family relaxing is one of the best medicines for a person who needs healing.
The support that Chapel Hill House receives from Lifting Hopes this year will go to paving the driveway of Chapel Hill House. This will make it easier for families to get to the house. Some of the proceeds will also go to making better paths in the woods so that the families can go on walks through the property.
Lifting Hopes is excited for the 3rd annual pump and run this October. We hope that you will join us in lifting hopes for children with pediatric cancer by participating in the pump and run or by donating to Chapel Hill House.