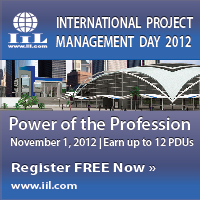 International presenters will address the most current and critical topics in, as well as beyond, project management...
New York, NY (PRWEB) September 19, 2012
International Institute for Learning, Inc. (IIL) is pleased to announce that registration is officially open for their free virtual event, Power of the Profession. This online event will recognize International Project Management Day on November 1, 2012. Now in its third year, IIL's extensive, interactive program is set to feature video presentations from more than 25 global industry professionals, experts, and influencers, including:

James Brown, PMO Sr. Manager, DuPont
Jennifer Quaglietta, 2012 Kerzner Award Recipient and Sr. PM Consultant, Ministry of Health and Long-Term Care Canada
James Connors, Executive VP Operations, National September 11 Memorial and Museum
Greg Balestrero and Dr. Harold Kerzner of IIL
"Once again, we are thrilled to have the opportunity to celebrate International Project Management Day with the Power of the Profession," said E. LaVerne Johnson, CEO and President of IIL. "This event allows us to not only acknowledge the hard work and dedication of project managers and teams around the world, but to facilitate knowledge sharing, a sense of unity, and movement towards a larger goal. That is something truly valuable."
The roster of international presenters will address the most current and critical topics in, as well as beyond, project management, including:
Six Sigma and Sustainability
Agile Planning and ITIL®
Leadership and Team Performance
Produced and directed by IIL Media, the video presentations will provide attendees with up to 12 PDUs. Attendees of the live event will also have the ability to visit virtual Sponsor Booths, download white papers and other collateral, and text chat with presenters. (Video presentations will be available to registrants for one month on-demand.)
Frank Saladis, PMP, founded IPM Day with a simple intent: designate a day of recognition for the work of project managers and teams, across all industries and cultures. Years later, project management has become one of the world's fastest growing, integral professions—and IIL's Power of the Profession is proof.
# # #
About International Institute for Learning, Inc.
IIL is a global leader in training, consulting, coaching and customized course development, and is proud to be the educational provider of choice for many top global companies. IIL's core competencies include Project, Program and Portfolio Management, Business Analysis, Microsoft® Project and Project Server, Lean Six Sigma, PRINCE2®, ITIL®, Leadership and Interpersonal Skills, Corporate Consciousness and Sustainability.
In addition to its wealth of innovative learning solutions, IIL has also established IIL Media, a full service digital video production company; IIL Publishing, a source for business-centered books that educate and engage; IIL Speakers, a very select group of motivational and keynote speakers whose ideas are inspiring business professionals around the world; and http://www.allPM.com a project management portal offering volumes of information, tools, articles, tips, blogs, and other project-related necessities for today's project managers.
Please visit us at http://www.iil.com; email us for more information at Learning(at)iil(dot)com or talk with an IIL Team Member at + 1 (212) 758-0177.