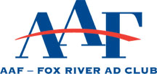 Appleton, WI (PRWEB) September 19, 2012
The AAF-Fox River Ad Club is proud to present Jim Moran, director of the Hamilton Wood Type and Wood Printing Museum, as the first guest speaker of the 2012-2013 season on October 11, 2012.
Moran is a third generation printer with over 35 years of experience in the printing industry. He has served as the director of the Hamilton Wood Type and Printing Museum, which is located in Two Rivers, Wis., since 2009. During his time at Hamilton he has worked on many projects including starting the letterpress printing workshops, archiving the museum's collection type pieces and speaking at conferences.
"There is an incredible craftsmanship and artistry that goes into the creation and design of classic wood type. Maintaining and preserving this art form is very important to our design community," said Matt Bellisle, president of the AAF-Fox River Ad Club, said. "We are honored to kick off the our season with a great speaker like Jim Moran."
The event is open to the public; participants can register online at http://aaffoxriver.org. Event admission is $45 in advance and free for all 2012-2013 AAF- Fox River Ad Club members.
The Hamilton Wood Type and Printing Museum is the only museum dedicated to the preservation, study, production and printing of wood type. With 1.5 million pieces of wood type and more than 1,000 styles and sizes of patterns, Hamilton's collection is one of the premier wood type collections in the world. In addition to wood type, the Museum is home to an amazing array of advertising cuts from the 1930s through the 1970s, and all of the equipment necessary to make wood type and print with it, as well as equipment used in the production of hot metal type, tools of the craft and rare type specimen catalogs.
The AAF- Fox River Ad Club is a resource for advertising professionals in Northeast Wisconsin.