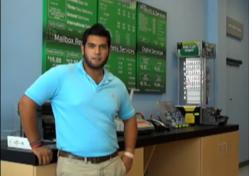 Everything came together quicker than I expected it to
Morehead City, NC (PRWEB) September 20, 2012
Mr. Gauta served over 22 years in the Marine Corps and is now fulfilling a lifelong dream of becoming a business owner. Mail Room Plus will be opening its doors soon offering a range of mail box store services to the Morehead City area. This comes on the heels announced USPS store shutdowns across the country and the Mail Room Plus fills a needed gap in mail services for the greater Morehead City, NC area.
The store will be run by Mr. Gauta and his family. According to Mr. Gauta, some of the services will include affordable national and international shipping, packaging, full color copies, key duplication, passport and ID photos, computer time rentals, internet access, business cards and letterheads, and mail box rentals. Along with offering the full range of mail box store services Mail Room Plus carries shipping supplies, corrugated boxes, packaging supplies, bubble wrap, tape, loose fill, shipping labels, cushioned mailers, decorated boxes, and other shipping essentials. It will also carry a full range of offices supplies and other convenience items like greeting cards according to the owner.
Mr. Gauta has years of experience in the shipping business and had always wanted to own a business he reports. After some consideration and research he decided a mail box store was the perfect fit. He decided to hire a business development partner, Mail Box Store Developers, to help him get started. "Everything came together quicker than I expected it to," Mr. Gauta replied when asked about how the store was stocked and all of the products and services were made available for his customers. In addition to the full store build-out, Mail Box Store Developers helped Mr. Gauta and his family secure a location, obtain a solid lease agreement for a price below local area going-price, all business and promotional training essential for running the store, and ongoing wholesale supply support and marketing support. When asked what he liked best about his new store Mr. Gauta replied, "Everything, I like the whole thing."
Mail Room Plus is located at 5000 Hwy 70, Morehead City, NC in the Teeter shopping center. It is conveniently located for the local community with plenty of parking according to Mr. Gauta, and is one of the only stores in the area to offer a full range of mail box store services. Hours will be 8 a.m. to 6 p.m. Monday thru Friday and from 10 a.m. to 2 p.m. on Saturday. More information on the official opening date will be available soon.
You can see more of the interview here.
Discount Retail Store Services is a business development company helping entrepreneurs start a business by covering all of the core tasks including site location, lease negotiation, financing, build-out, business training, new store oversight, and ongoing wholesale support and marketing support. Opening nearly 3000 independently owned stores to-date, they specialize in six business models including dollar stores, clothing stores, teen stores, party stores, mail box stores, and fitness centers. Find out about upcoming news on Facebook.