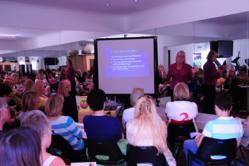 education is one of the main focuses of our programmes at Homefield Grange
London, Northampton (PRWEB UK) 21 September 2012
All tickets for the Dr Marilyn Glenville event on 8th September 2012 were sold out. Clients of Homefield Grange commented on how much they enjoyed the informative and practical advice given by Dr Marilyn Glenville, regarded as one of the UK's leading nutritional therapists in women's health.
The resident chef prepared delicious raw food snacks for the event and with weather on their side delegates were able to utilize Homefield's beautiful courtyard setting. You can see more pictures from the event in the Homefield Grange Facebook photo album.
Company information
Homefield Grange is a dedicated, established and permanent spa retreat open 51 weeks of the year, assisting clients making positive changes towards their health and well-being. This caring team of qualified practitioners will provide all the help one would expect from a professional organization.
For more information about Homefield Grange visit the website or call 01536 712219 or you can email enquiries(at)homefieldgrange(dot)co(dot)uk