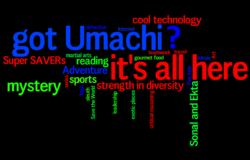 Can small kids save the world? Sure they can, if they are optimistic, ingenious, and team-players
Plano, TX (PRWEB) September 19, 2012
Umachi Books unleashes a new marketing slogan for its adventure book series for kids - "it's all here".
The rationale is simple: Umachi Books introduce a wide variety of topics to kids starting from Tigers to Chess in the book - Super SAVERs to the Rescue. The upcoming book - Save the Thunderbolt, Super SAVERs - talks about NASA, morse code, hurricanes, mythology and several other concepts tied into a fun little mystery for children.
In the words of Sripriya Sundararaman, author of the adventure series and CEO of Umachi:
"Can small kids save the world? Sure they can, if they are optimistic, ingenious, and team-players. A multi-cultural crew of five kids from Long Hill Elementary, take on some of the big challenges facing mankind.
As each Umachi adventure unfolds, an elegant tapestry of mysterious clues, exotic locales, eclectic skills, and clever solutions is revealed. The conclusion is a thrilling finale that leaves the reader longing for the next book in the series."
Umachi Books strongly believes in the holistic development of young impressionable minds. The adventure books integrate concepts like diverse cultures, active lifestyle, arts and music, mind games, and modern technology into exciting little mysteries.