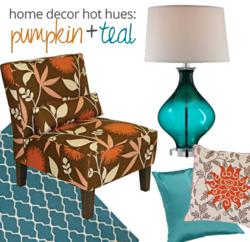 Pumpkin is a fall favorite. Mixed with teal it's fabulous!
Los Angeles, CA (PRWEB) September 20, 2012
With Labor Day in the rearview mirror, people are gearing up for the shorter days and cooler nights of autumn—and with that usually comes a change in the home decor palette, as people get set for the upcoming holidays. This year, Lamps Plus designers have identified pumpkin and teal - a fresh mix of traditional and trendy - as the hot hues for fall. Lamps Plus Design Content Producer Michael Murphy explains this exciting combination: "Pumpkin spice is a perennial fall favorite—but mixed with the a burst of teal, it takes on a fresh year-long feel in the home."
Angela Hsu, Vice President of Internet Marketing with Lamps Plus, explains how an idea like the season's "hot colors" can go from abstraction to accurate prediction. "Lamps Plus has a track record over the last 30 years of projecting style trends," she says. "We look to the fashion industry, futurists and our own data on consumer trends to understand what's coming next. Then we go to great lengths to outfit our customers accordingly."
What does this mean to the consumer? "Customers will see more pumpkin and teal designs in our stores and online," continues Hsu. "In addition to offering the nation's largest selection of lighting, we're adding new furniture and home decor products daily."
"The great thing about this palette is that it will look spectacular in every season," explains Murphy. To incorporate these colors into the home, Murphy advises DIY decorators to set the tone with a few anchor pieces of furniture, such as a pumpkin couch or a pair of chairs. "Pumpkin or burnt orange provides an excellent base. Next, you can use table lamps, accent tables and assorted accessories to introduce analogous colors such as a sunny yellow or a dark leather brown into your interior." Some home owners may even want to consider painting their interior walls a shade of pale yellow to connect with the orange furniture.
"Lastly, add the color kicker…Teal." Murphy explains, "It beautifully complements the orange and yellow tones. Once you've peppered the home with these warm colors, it's time to bring them to life with fresh teal window treatments, accent pillows and other home decor. The cool blue-green addition will energize a space without overpowering it." Murphy encourages home decorators to experiment with teal across its entire range, from light aqua to a blue-hued forest green.
To round out the look, Murphy recommends incorporating beautifully patterned textiles such as a throw blanket or area rug, or a unique piece of wall art. "For the finishing touch, look for art and textiles that include not only pumpkin and teal, but other colors too. This fall there's no reason to be shy about color!"
About Lamps Plus
For more than 30 years, Lamps Plus has been synonymous with excellence in the lighting retail industry. Established in 1976, Lamps Plus is the nation's largest specialty lighting store, with more than 40 superstores throughout the western United States. Together with their retail lighting stores and online business, Lamps Plus serves customers nationwide with the largest selection of functional and decorative lighting fixtures, accessories, furniture and home decor. This selection includes hundreds of products available exclusively from Lamps Plus. Services include in-home lighting consultations, in-store lighting workshops and installation from expert, licensed electricians. American Lighting Association certified lighting designers are available to offer product recommendations and lighting advice in all our stores, by phone or online at LampsPlus.com. The Lamps Plus family of websites also includes 55 Downing Street, Lighting Luxury Style and Lamps Plus Open Box.