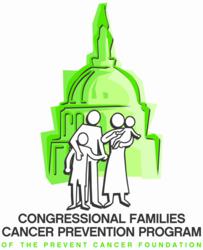 "This year we mark the 20th year that a bipartisan, bicameral group of members of Congress, Congressional spouses, leaders in the cancer community and supporters come together to renew our commitment to Stop Cancer Before It Starts!"
Alexandria, Va. (PRWEB) September 20, 2012
The Prevent Cancer Foundation's Congressional Families Cancer Prevention Program will honor journalist Jennifer Griffin, Olympian Dara Torres, Congressional spouses Marcelle Leahy and Barbara Morris Lent and diplomatic spouse Ellen Noghès at the annual Action for Cancer Awareness luncheon held today on Capitol Hill. The program's signature event recognizes the activities of Congressional spouses, members of Congress, media representatives, and other advocates for their outstanding work in cancer education, awareness and prevention.
"This year we mark the 20th year that a bipartisan, bicameral group of members of Congress, Congressional spouses, leaders in the cancer community and supporters come together to renew our commitment to Stop Cancer Before It Starts!" said Congressional Families Executive Director Lisa McGovern. "Just a few decades ago, cancer prevention was a radical idea. But today, thanks to the hard work and more than two-decades of dedication of people like those we honored today, cancer prevention is now part of the national dialogue and a critical piece of the equation on how to best combat this disease."
This year's honorees:

Fox News Channel's National Security Correspondent Jennifer Griffin received the Distinguished Service in Journalism Award. A three-year breast cancer survivor, she actively blogged her journey with honesty, humor and warmth—generously sharing her story to help and inspire others. Jennifer advocates for a healthy diet and exercise for everyone.
Five-time Olympian Swimmer Dara Torres received the Excellence in Cancer Awareness Award. Dara defies age and odds, inspiring women and men of all ages as the first and only Olympic swimmer from the United States to compete in five Olympic Games. Having lost her father to colorectal cancer, Dara also serves as a tireless advocate for those with the disease and their families.
Marcelle Leahy, spouse of Sen. Patrick Leahy (Vt.) and Barbara Morris-Lent, spouse of the late Rep. Norman Lent (N.Y.) received the Congressional Families Leadership Award. A melanoma survivor, Marcelle is a member of the board of the Prevent Cancer Foundation. This former nurse educates people about skin cancer prevention, diagnosis and treatment, and the importance of being a fierce advocate for oneself. She is active in her home state of Vermont and nationwide.
Since the inception of the Congressional Families Cancer Prevention Program in 1991, Barbara Morris-Lent has been involved, lending her ideas, vision, and organizational skills to its success. For many years, she helped secure financial and human resources for the awards lunch.
Congressional Families presented Ellen Noghès, spouse of His Excellency the Ambassador of Monaco, with a special award for her work in cancer awareness in the diplomatic community. Ellen has had three separate cancer diagnoses – two occurrences of melanoma and one of breast cancer. In Washington and at previous diplomatic postings, Ellen brought together others in the diplomatic community who faced cancer to share their stories and strength. Ellen is the first diplomatic liaison to the Congressional Families program.
About the Congressional Families Cancer Prevention Program
The Congressional Families Cancer Prevention Program began in 1991 as a partnership between the Prevent Cancer Foundation and the Congressional Club, a bipartisan organization of spouses of Members of the House, the Senate, Cabinet and Supreme Court. Spouses active in the program share an interest in advancing cancer prevention, early detection and education.
###
About the Prevent Cancer Foundation:
The mission of the Prevent Cancer Foundation is to save lives through cancer prevention and early detection. Founded in 1985, the Foundation has provided more than $130 million in support of cancer prevention and early detection research, education, advocacy and community outreach nationwide. For more information, please visit http://www.preventcancer.org.