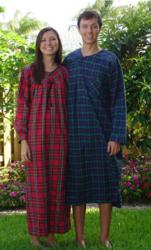 It is great to find a source for something that you buy regularly.
Hobe Sound, FL (PRWEB) September 20, 2012
Wittmann Textiles Company adds to their line of Ladies Flannel Nightgowns. In a time where 100% cotton is hard to come by in the industry, their company has added to their Ladies USA line of Flannel nightgowns and at a reasonable price of $32.95 or 2 for $59.90 on most styles. The President of the Company, Scott Wittmann, expresses his gratitude to many in the USA movement to buy American in the past few years that has sparked renewed interest in USA Products. With suppliers in Pennsylvania and in the Carolinas just holding on from year to year, he indicated that some of their vendors were not able continue in this last round of downsizing. But what makes him very optimistic about the future is the number of new start-up manufacturers that use high quality materials and that are hiring people again. Wittmann Textiles is unique in that instead of weekly sales on only certain products, they offer everyday quantity pricing and free shipping over $190.00. So, they welcome you to visit their website at http://www.wittmanntextiles.com.
Testimonial: "I discovered Wittmanntextiles.com in the last couple of years. I have returned mainly for a particular item that they carry. It is one of their flannel nightgowns. They are the best I have found and I am a dedicated comparative shopper, plus I also shop for several other people. It is great to find a source for something that you buy regularly; something that I know is going to 'be there' not just available, but being able to trust the quality of the item, and integrity of a company." S. Burrell
A national mail order and internet company in Hobe Sound, Florida, Wittmann Textiles Company family owned and operated continuously for 57 years. Offering made in the USA and other high quality sleepwear selling directly to the consumer at the best possible price. Wittmann Textiles Company, headquartered in Hobe Sound, FL, offers the highest quality sleepwear and advertises in Smithsonian, Elks, Sierra, National Review, and others. Wittmann Textiles Company offers great personal customer service and all products are backed by a 100% Satisfaction, Money-Back Guarantee. For more information, please visit http: http://www.wittmanntextiles.com.