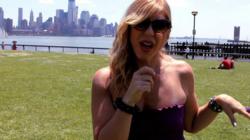 eTalentShowcase has exposed me to a lot more fans on the East Coast—which is always a great thing.
(PRWEB) September 20, 2012
Detroit-based indie artist Eliza Neals announced the premiere of her highly infectious music video for the hit single 'Livin' With Yo Mama.' A lighthearted tale of an uptown girl learning that her new beau is not at all what he seems to be, the video plays off of the artist's rock blues meets jazz style. But it is her sultry voice that announces the arrival of a fantastic new talent bound for the top of the indie music charts.
Helping her to get there is eTalentShowcase.com, a free social media site dedicated to promoting and developing emerging artists. After the singer beat out more than 1,000 other musicians to win the site's "I Wanna Be A Rock Star" contest, the eTalentShowcase.com crew met with Neals to present the contest prize, a new iPad. That's when they surprised her with the news that they would script and shoot a music video to help her music reach a larger audience. "I am happy and grateful to eTalentShowcase for the great video shoot they gave me," said Neals. "eTalent has exposed me to a lot more fans on the East Coast—which is always a great thing." Watch the video here, http://www.etalentshowcase.com/contest/eliza-neals-video.php.
This is the first of many music videos and promotional opportunities eTalentShowcase is offering its members. "We're all about helping emerging artists get discovered," said Ed Olimpio, vice president of eTalentShowcase.com. "So we were thrilled to be able to work with Eliza and help her breakout in the increasingly complex music industry. Stay tuned. We're always looking for the next talent to produce. Visit http://www.eTalentShowcase.com, create a free profile and you just might get a call saying, 'hey, we want to shoot a music video with you.' "
For more information about eTalentShowcase.com, contact Ed Olimpio at ed(at)etalentshowcase(dot)com. The social media site—which provides artists and entertainment industry professionals with powerful, intuitive tools to connect, promote and prosper online—offers free profiles, original content, contests and a base of active, engaged fans. eTalentShowcase. It's Where Talent Gets Discovered.