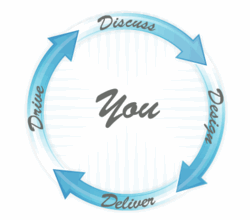 "Our goal is to improve an organization's effectiveness by preparing professionals to clearly communicate with great impact."
San Francisco, CA (PRWEB) September 19, 2012
Exec-Comm LLC, a recognized global leader in communication skills training, announced today a two day seminar series. A live training workshop in October designed to dramatically improve business professionals' writing and public speaking skills.
The Communication Skills Boot Camp will be conducted on October 15 and October 16 in San Francisco and will focus on helping professionals develop practical action writing and presentation skills which are immediately transferable.
"Our goal is to improve an organization's effectiveness by preparing professionals to clearly communicate with greater impact," said Exec-Comm Managing Partner Jay Sullivan. "Our team of communication experts will work with conference attendees to teach them to write for action and present with impact."
Effective communication is a primary function of business today, yet many professionals are under-prepared, or lack basic training when it comes to written and oral communications.
The Action Writing public program teaches professionals to:

Write shorter documents
Use precise, concise language
Eliminate passive verbs
Write appropriate, results-oriented e-mails
Use sentence writing techniques to capture the readers interest
Edit documents quickly
Organize information quickly and effectively
Adjust style appropriately for each document's purpose and recipient
The Presentation Skills public seminar teaches professionals to:
Project a polished, professional manner
Speak fluently and gesture naturally
Quickly organize a presentation for greatest audience impact
Create effective visuals
Select and professionally present materials using various media
Respond to questions
Control interruptions during a presentation
The training seminar takes place at 4 Embarcadero Center, Suite 1400 in downtown San Francisco. To learn more about our programs and upcoming events visit our website here.
For more than three decades, Exec-Comm has trained professionals around the world, helping them communicate more effectively through on-site seminars, online programs and events scheduled in convenient locations. Exec-Comm works with a wide range of experience levels within an organization from entry level employees to C-level executives to help them impact their world.
About Exec-Comm LLC
Founded in New York in 1982 with an office in San Francisco, Exec-Comm LLC is a premier communication skills training and consulting firm. Exec-Comm works with clients across all major industries including professional services, financial services, technology, insurance, manufacturing, oil and gas, and healthcare. The firm teaches all levels of professionals, in both group and private coaching settings, how to communicate with greater impact, by focusing more on others and less on themselves.