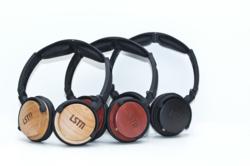 Los Angeles, CA (PRWEB) September 19, 2012
LSTN, the newest social enterprise, is focused on providing high end, stylish wooden headphones for a great price and an amazing cause. Each time a pair of LSTN headphones or earbuds are purchased, a child in a deaf school receives the gift of hearing.
How does this work? Partnering with global organization SoundSeekers, mobile clinics are taken into small villages throughout Southern and Eastern Africa and India, custom fitting hearing aids for children in deaf schools and treating them on the spot.
Striving to make a difference both globally and locally, LSTN donates proceeds to the John Tracy Clinic in Los Angeles as well. JTC is the world's largest private provider for infants and children with hearing loss. JTC is the only institution in Southern California to provide audiological, developmental and educational services for children with hearing loss in children from birth through age 5 and their parents.
LSTN's unique and high quality headphones are made of exotic woods, including beech, cherry and ebony. The wood they use is reclaimed from furniture manufacturers – pieces too small for a cabinet, but big enough for headphones. The wood chambers produce a warm sound that music lovers of all genres have already fallen in love with.
LSTN was founded by young social entrepreneur Bridget Hilton in August of 2012. On ear headphones are available for $95 and earbuds are $45, and can be found at http://www.LSTNheadphones.com