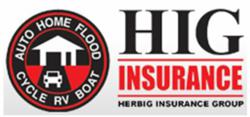 The agency has put together a quick list of tips to be aware of, whether before, during or after a flood.
Heathrow, Florida (PRWEB) September 19, 2012
Florida insurance agency, HIG Insurance Group, offers advice to the residents of Florida for the hurricane season. While strong winds are the main concern around this time of year, it is important for residents to not undermine the risk of flooding.
According to Florida Disaster, the Florida Division of Emergency Management, flooding is one of Florida's most frequent hazards. "Due to the relatively flat terrain across Florida, it is complicated to drain accumulated water." During hurricane season, flooding is especially prevalent.
In light of this, the agency has put together a quick list of tips to be aware of, whether before, during or after a flood.
Before:

Put together an emergency kit
Create a family communication and evacuation plan
Install "check valves" to prevent flood water from backing up into drains
Elevate electrical panel and water heaters at home
Turn off utilities at home and unplug appliances before the flooding begins
During:
Keep a portable radio and batteries on hand to stay in tune with the news
Never walk through moving water
Never drive during a flood, if possible
Move to higher ground immediately
After:
For flooded homes, it is best to have an authority give the "okay" to return
Clean and disinfect all items that come in contact with flood water
Do not use electrical appliances affected by flood water without a professional to give the "okay"
Avoid moving water
Call insurance agent to file a flood insurance claim immediately
For more information and safety tips, FL residents should check out the official FEMA website. The agents at HIG Insurance Group are dedicated to making sure the Florida community is safe and sound, even during the worst of weather.
Residents who are not currently protected with a flood insurance policy should contact the insurance experts at HIG Insurance Group. A typical home insurance policy will NOT protect homes and valuables from flood damage. It is better to be safe than sorry this hurricane season!
About HIG Insurance Group:
With four convenient locations throughout the state, HIG Insurance Group is a full-service Florida insurance agency that has prioritized customer satisfaction since day one. We continue that today by helping individuals, families and businesses with risk management and, of course, insurance. Florida is our home and we believe we can strengthen our community with the services we offer. We take pride in creating long-standing relationships with each client who insurance with us.