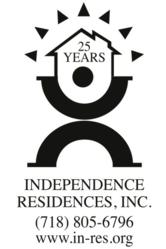 "Over the Last 25 years, our achievements have directly improved the lives of those we support," says Ray Denatale, CEO of Independent Residences, Inc.
Woodhaven, NY (PRWEB) September 20, 2012
For a quarter of a century, Independence Residences, Inc. (IRI) has been making a difference. The not-for-profit human services agency incorporated in 1988, provides residential and community support to people with developmental disabilities and visual or other impairments.
Parents of blind, multiply handicapped, developmentally disabled children founded IRI in 1984. They were worried about their children aging out of existing services. One of our past Board Presidents, Ruth Migliorelli remembers, "No other agencies at that time would consider their children. They persevered, they petitioned the State and after much dedicated effort Independence Residences was created!" From that beginning, IRI was designed to create opportunities where none existed: opportunities for adults who are disabled to live more rewarding lives as integrated members of society, in homes designed for their special needs and with an extensive circle of support to give them access to work, volunteer, opportunities to learn, grow and dream within their communities. As the agency celebrates its 25th year, the mission remains the same while IRI broadens the range of services it provides and supports people with autism and other developmental disabilities. This past year, IRI expanded its Crisis Intervention services to include the Bronx. IRI opened the "sister" residence to its 94th Street residence, where individuals who lived in a large twelve person rectory now live in six person homes each with their own bedroom. IRI also recently began operating apartments, which allows people in their 24/7 supervised IRA'S who have the interest and capacity to live more independently on their own. This further creates opportunities for people who need full-time supervision to take their place in these residences.
"Over the Last 25 years, our achievements have directly improved the lives of those we support," says Ray Denatale, CEO of Independent Residences, Inc. Whether its creating immediate response crisis intervention services, moving folks to more independent apartments, or moving those who live in state run institutions to homes that meet their needs and allow for daily integration into the community where they can make new friends and thrive, IRI is a force for change." Because of the organization's work, two people with developmental disabilities fulfilled their dream of getting married, having a child and enjoy life like others in their neighborhood. Most recently, Independence Residences was invited to become a COMPASS agency of OPWDD. This honor reflects OPWDD'S belief that IRI has gone beyond the quality standards they have set. As part of this honor and responsibility, IRI will participate in Focused Case Studies that will assess components of managed care for people with developmental disabilities as they are planned, to be implemented in the People First Waiver beginning with pilot DISCO'S (managed care organizations) in 2013.
IRI's 25th year will keep long-held traditions. There will be four major fundraisers and the 10th annual Spring Gala will celebrate 25 years of service. The black-tie event held at the Glen Island Harbor Club in New Rochelle, New York, is legendary for its elegance, fine cuisine, open bar, raffle prizes and both a silent and live auction. This year it will also be a special occasion to say thank you to those who have supported and helped the organization grow over the last 25 years.
"We will be lighting up the skies to celebrate our 25 years in existence. Come join us with a spark of love and humanity," says Carol Grimaldi, Board President of IRI.
Independence Residences, Inc., a not-for-profit human services agency, was founded in1984 for the purpose of serving people who have developmental disabilities and visual or other impairments. IRI has varied residential opportunities some of which are staffed 24 hours a day. Day opportunities include supportive employment; work at the Independence Cafe and day habilitation programs that are both site based and non-site based. In addition, we offer a wide range of family support services; provided in the home and community that include Respite, Crisis Intervention and After School programs. These programs are provided in the 5 boroughs of New York City and on Long Island.