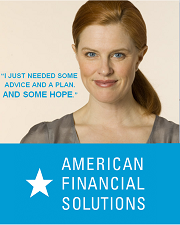 Military members face unique situations when managing mortgages and debt
Seattle, WA (PRWEB) September 19, 2012
On a conference call with the Seattle-King County Asset Building Coalition Veterans Work Group on Wednesday, September 12th, Holly Petraeus, Assistant Director for the Consumer Financial Protection Bureau, outlined the policy changes to the Home Affordable Mortgage Program (HAMP). According to Becky House, Education Director for American Financial Solutions, the changes are intended to make it easier for military members to access benefits through the program. Members of the military face unique situations when managing mortgages and prior requirements of the HAMP put them in jeopardy of hurting their careers.
Previously when a person needed assistance with their mortgage they had to be behind in payments. This requirement could ultimately cost a serviceperson their rank or even worse, their career. According to a 2010 report from the Department of Navy, indebtedness is the number one reason for military members to be denied a security clearance or to have their current clearance revoked.
Under the HAMP revisions, military members do not have to be behind in order to qualify for assistance. In addition, if they have received an order to move, they do not have to be living in the home in order to be eligible for HAMP relief.
These changes are significant since service members face unique challenges when they are transferred to new locations. It can be difficult to sell a home especially in a depressed housing market and even more difficult to make payments on two properties, even with a housing allowance.
Service members struggling with a mortgage payment may be eligible for a HAMP modification if:
•They are displaced due to an out-of-area job transfer such as permanent change of station orders and were occupying the home as a principal residence immediately prior to the displacement;
•They intend to return to the home at some point in the future; and
•They do not own any other single-family real estate.
Military and other families who do own other residential properties may still qualify for a HAMP modification under expanded opportunities available for rental or may qualify for a short sale under another program, the Home Affordable Foreclosure Alternatives Program (HAFA).
The HAFA program provides two options for transitioning out of a mortgage: a short sale or a Deed-in-Lieu (DIL) of foreclosure. In a short sale, the mortgage company allows a person to sell their house for an amount less than what they owe. In a DIL, the mortgage company allows the homeowner to transfer the title and ownership back to the bank.
In either case, HAFA offers benefits that make the transition as favorable as possible, such as:
•Free advice from HUD-approved housing counselors and licensed real estate professionals.
•Unlike conventional short sales, a HAFA short sale completely releases a person from their mortgage debt after selling the property. This means they will not be responsible for any amount still remaining on the mortgage. The deficiency is guaranteed to be waived by the servicer.
•In a HAFA short sale, the mortgage company works with the person to determine an acceptable sale price.
•HAFA has a less negative effect on your credit score than foreclosure or conventional short sales.
•When the sale closes, HAFA may provide $3,000 in relocation assistance.
If someone lives in Washington State and needs help with a mortgage, they can contact a housing counselor at American Financial Solutions today. Outside of Washington, visit the Department of Housing and Urban Development (HUD) to find an approved housing counseling agency.
American Financial Solutions (AFS) is a non-profit 501(c)3 financial education and credit counseling agency that helps people find solutions for managing their money and improving their financial lives. Since 1999, AFS has helped individuals across the United States through one-on-one counseling, classes and the use of debt management plans. AFS is a member of the National Foundation for Credit Counseling (NFCC) as well as the Association for Independent Consumer Credit Counseling Agencies (AICCCA). AFS is also accredited by the Council on Accreditation (COA) and has an A+ rating by the Better Business Bureau. Find us and add us on Facebook, Twitter and Google+.