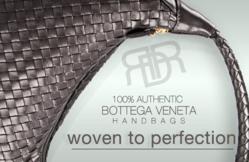 Designer handbags typically do not go out of style ...
(PRWEB) September 20, 2012
Rodeo Drive Resale (http://www.shoprdr.com), premier reseller of 100% authentic designer handbags and fashions, including Louis Vuitton purses and St. John Knits, embraces the fall season with "Bottega Veneta: Woven to Perfection," a promotion offering amazing deals on woven handbags and purses from the popular Italian fashion house.
As with every item available through shopRDR.com, all Bottega Veneta items are backed by a 100% money-back guarantee of authenticity. In addition to their sales, shopRDR.com offers one of the best deals on consignment in the business, paying up to 70% of the final selling price for handbags, shoes, jewelry, accessories and watches on consignment.
"Bottega Veneta: Woven to Perfection" marks the third major promotion from the popular online reseller as of late, as shopRDR.com held both its Labor Day Weekend sale and its animal print campaign, "Walk On The Wild Side" earlier this month. The successful Labor Day Weekend sale offered savings of up to 25% off all designer clothing and an additional 15% off all designer shoes with free shipping on orders of $200 or more, as well as 10% off all designer handbags, one of fashion's greatest investments, noted shopRDR.com co-founder Raya Jaffer: "Designer handbags typically do not go out of style, which is good because they can last for many years."
During "The Wild Side," promotion, shoppers found deep discounts on animal print items such as a zebra satchel bag by Coach, Tod's black python tote bag, an Escada crocodile print belt and a limited-edition Kate Spade snake-embossed hobo bag, complete with gold-plated hardware. These are just a few of the many items available, with popular brands such as Dolce & Gabbana, Escada and Michael Kors also being offered at a discount.
Lovers of luxury fashion are cordially invited to see what great deals await at "Bottega Veneta: Woven to Perfection," happening now at shopRDR.com.
*Handbag Storage Tip of the Day: Be sure that your handbag is in an air controlled environment, not overly cold or hot. Humidity will actually change the finish of your leather or whatever kind of bag you have. It will also tarnish the hardware. When storing your bags, use a breathable cover such as a dust bag. Also, never place an empty bag in storage; it should be filled with soft tissue. The idea is to keep it stuffed so that it retains its shape.
Rodeo Drive Resale (shopRDR.com) has built a reputation of providing amazing deals on handbags, clothing and accessories from the top designers of upscale fashion. The company offers a 100% guarantee of authenticity on each item sold, and works daily with a network of clients looking to buy, sell, or for consignment of their luxury goods. ShopRDR.com loves high-end fashion, and believes finding a high quality, classic piece should be an easy, enjoyable -- and most importantly -- hassle-free shopping experience. For the finest in Louis Vuitton, Chanel, Prada, Gucci, St. John Knits, Christian Louboutin, Tiffany & Co. and more, visit RDR online at http://www.shopRDR.com or call 1-888-697-3725. Also find shopRDR.com's blog at http://blog.shopRDR.com.
Also find shopRDR at:
Blog: blog.shopRDR.com
Facebook: facebook.com/shopRDR
Twitter: twitter.com/shopRDR YouTube: youtube.com/ shopRDR
Pinterest: pinterest.com/shopRDR
Rodeo Drive Resale (shopRDR.com)
1-888-697-3725
service(at)shopRDR(dot)com