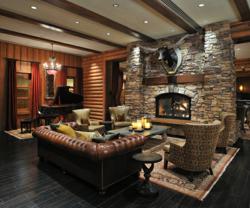 Houston, TX (PRWEB) September 19, 2012
Montgomery Roth will begin the renovation process of 954 rooms and suites at L'Auberge du Lac Casino Resort in Lake Charles, LA. Pinnacle Entertainment, owner of the L'Auberge du Lac Casino Resort, has seen continued brand success with the recent opening of L'Auberge Baton Rouge and the proposed development of a new property on a 242-acre site adjacent to L'Auberge by a competitor.
To ensure a consistent and high-level of hospitality for its properties, Pinnacle Entertainment entrusted Montgomery Roth to guide the renovation of the guest rooms at the Lake Charles location to reflect the luxury provided by Pinnacle's continuance of the L'Auberge brand with the opening of a new casino and hotel in Baton Rouge. By partnering with one of the top architectural and interior design firms in the hospitality and resort industries, this renovation by Montgomery Roth will go beyond Pinnacle's expectations, and ensure that L'Auberge Lake Charles Casino Resort remains the flagship of Pinnacle's properties. L'Auberge Lake Charles is regularly one of the top riverboat casinos in terms of gamblers' winnings, and occasionally tops Harrah's New Orleans Casino, the only state-licensed land casino.
Phase I construction is projected to begin in early November, which will include the renovation of 531 rooms, an approximately $19 million project. Montgomery Roth will be managing the architectural design and interior design aspects of this renovation project. Phase II of renovation, which totals roughly $14 million, will complete the remaining rooms and is scheduled to start shortly following Phase I.
Montgomery Roth has considerable history working with Pinnacle Entertainment. The two companies began their relationship in April of 2010 when Montgomery Roth, known world-wide for hospitality design, was chosen to implement a property improvement plan for 6 of Pinnacle's properties, including the Boomtown, River City, Lumiere, Belterra, and L'Auberge brands throughout Missouri, Indiana, and Louisiana. Montgomery Roth has since been involved in variety of aspects of renovations with 5 of those 6 properties. The renovations included everything from guest rooms to casino floor and food and beverage facilities.
About Montgomery Roth Architecture & Interior Design, L.L.C.
Montgomery Roth is an award-winning interior design, architectural design and procurement firm that delivers exceptional results based on a delicate balance of technology, aesthetics, and economics in the creation of a functional environment. This philosophy has been the key to Montgomery Roth's success in creating outstanding architecture and interior designs for hotels, restaurants, bars, spas, casinos, and residential projects.
HOUSTON OFFICE: 2200 West Loop South, Suite 650, Houston, TX 77027, Tel. 713.654.9400, Fax. 713.654.940
NEW ORLEANS OFFICE: 400 Poydras Street, Suite 1720, New Orleans, LA 70130,Tel. 504.568.1240, Fax. 504.568.1245