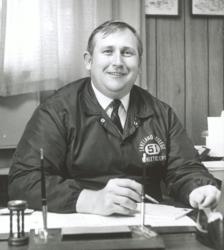 Sheboygan, WI (PRWEB) September 18, 2012
The National Association of Intercollegiate Athletics (NAIA) has announced that Duane "Moose" Woltzen and Pat Curran – two of the biggest names in Lakeland College athletic history – have been selected for induction into the NAIA Hall of Fame.
Woltzen and Curran are among a class of 13 inductees being recognized for their significant contributions to the NAIA, to intercollegiate athletics as a whole and to their individual sport. A complete news release is here http://www.naia.org/ViewArticle.dbml?DB_OEM_ID=27900&ATCLID=205680146.
Woltzen will be inducted posthumously on March 12, 2013, during the NAIA Division I National Men's Basketball Championship in Kansas City, Mo.
Curran will be inducted on Jan. 7, 2013, during the Football Coaches Association National Meeting in Nashville, Tenn.
Woltzen was one of Lakeland's greatest ambassadors, and he carved his own chapter in Wisconsin basketball history. Serving as men's basketball coach and athletic director from 1964-88, his teams won 536 games and amassed an impressive .700 career winning percentage. He died in 2009.
Already a member of four Hall of Fames and frequent guest speaker at camps, clinics and to service clubs, Woltzen was a fixture on the international basketball scene. He took his Muskies all over the world to play, he served as a coach for several international teams and he started an international sports tours business.
Moose's son, Scott Woltzen, a 1982 Lakeland graduate, said the family was pleased to see both men earn this recognition.
"(Moose) wasn't one going to bang his own drum," Scott Woltzen said. "It's also a tribute to the players that he recruited to Lakeland and melded into a cohesive unit. His teams were fun to watch, they played hard and he always had players from all different background under one roof. They came together and played Muskie basketball.
"And many of those guys are still pretty darn close, despite having graduated, in some cases, more than 40 years ago. It was a family. He was a pretty impressive fellow – we miss him."
Curran was one of the most successful athletes in Lakeland history. A bruising running back for the football team, he set eight school records and still holds every school scoring record.
In 1969, Curran was selected in the sixth round of the NFL draft by the Los Angeles Rams. He played 10 seasons in the National Football League for the Los Angeles Rams and San Diego Chargers. After retiring as a player, he served as business manager for the Chargers and later as a color analyst on Chargers radio broadcasts. Today he is a successful businessman working for Snap-on tools.
Curran said he was surprised to receive the honor. "I'm very flattered and honored," Curran said. "My time at Lakeland meant so much to me, and I'm very close with many of my former teammates."
Curran said entering the hall the same year as Woltzen makes the honor extra special. "I had a great deal of love and respect for Moose," Curran said. "He was a tremendous help in getting me to come to Lakeland. For me, Moose was Lakeland College."
Kellen Winslow, Lakeland's vice president for athletics and wellness, said the college is honored to have two of its own receive the NAIA's highest individual honor.
"We're especially fortunate to have Coach Woltzen and Pat receive this significant achievement in the same year," Winslow said. "I never had the pleasure of meeting Coach Woltzen, but I'm quickly learning about his impact on this college and many of our alumni. I'm thrilled for Pat, who I've known since we were both with the San Diego Chargers.
"Their accomplishments are deserving of this honor, and we're proud to count them among the members of the Lakeland family."
Loren Tiede, Lakeland's dean of students from 1964-77 and head baseball coach for 10 years, was a close colleague and friend of Woltzen.
"Moose was an affable fellow, easy to talk with," Tiede said. "The thing I liked and admired about Moose is he was always supportive. When kids were having problems, they would go to Moose. He would work with them, take them in or comfort them at a time when they needed it. He had a way with kids, and he always put kids first."
Bill Wall, longtime executive director of USA Basketball and former National Association of Basketball Coaches president and executive director, knew Woltzen for more than three decades. The two became close friends, often working together in leading Lakeland and national teams on overseas tours.
"Moose was a basketball lifer, devoting himself to the game," Wall said. "He could be counted on and trusted to do anything that was asked of him. Moose was always ready to serve and help further the game."
Ted Hendricks, a member of the Pro Football and College Football Hall of Fame, was drafted the same year as Curran and the two competed in the NFL when Curran and the San Diego Chargers faced Hendricks and the Oakland Raiders.
"I remember Pat as a talented and solid player," Hendricks said. "His 10-year long NFL career certainly speaks to the quality of player and individual he was. Pat was always thankful for his experience at Lakeland, and he credited his time as a student and an athlete there in shaping him as a player and a person."
Anthony LaScala, retired athletic director and coach at St. Procopius College (now Benedictine University) in Lisle, Ill., was friends with Woltzen, and recalled Curran as a player.
"Pat was an outstanding football player who played the game that way it was designed to be played, and was a tremendous competitor," LaScala said. "Off the field, Pat was a true gentleman, and I believe a great representative of both Lakeland College and the NAIA."