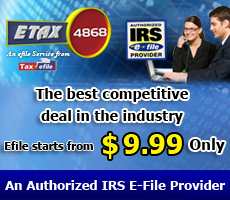 (PRWEB) September 19, 2012
The IRS Form 4868 gives individuals a 6 month extension for filing federal income tax returns. Filing for the IRS Form 4868 will extend the filing date to October for various versions of the IRS Form 1040. It is important to remember that the individual filing will need to report an estimate of the due tax while filing for the extension 4868. The estimated tax can also be paid for whether it is in full or partially when the extension is submitted. The IRS accepts corrections to tax extensions but it is still important to remember that the IRS Form 4868 is due on the original due date for the federal income tax return.
Tax2Efile has proven every year to have a working formula to give filers an easy to use system to file their taxes. Filing at Etax4868.com is easy and the submission process is extremely fast. Tax2Efile's testimonial page gives just a glimpse of how easy and helpful Tax2Efile's services can be. Great customer service is what the team at Tax2Efile excels at and it seems to be one of their strengths. Tax2Efile seems to thrive off of the excellence of their customer service to create a friendly and understanding atmosphere when a customer is in need of help.
The IRS recommends electronic filing (E-Filing) instead of visiting the local IRS office and it is definitely better than spending countless hours in line. Along with the IRS Form 4868, various other IRS forms can be filed online.