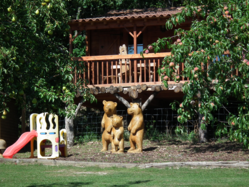 We have been determined to create an environment that is safe for children without impeding on their freedom to play and have fun.
(PRWEB UK) 19 September 2012
A British holiday company specializing in imaginative outdoor play for children has announced plans to develop its activities and play areas across their five acre site in the South of France. Established 10 years ago, Pagel offer a unique "child centred" holiday experience designed to allow children the freedom to roam, play and explore in a safe environment, whilst parents relax and enjoy the site's beautiful weather and scenery.
A family run company; Pagel was set up by owners Mark and Lara Bishop after years of frustration at not being able to find a special place to holiday abroad with their children. "We had a dream to create a special place for families to holiday that is safe, beautiful, located in a fantastic and interesting area, and that provides everything you need for families from practical essentials such as potties and cots, to changing mats and sterilisers, toy boxes and imagination play zones" explains Lara.
Mark and Lara's concept for Pagel was an instant hit with parents following their opening in 2002. Since then, the site has grown year-on-year and features an array of play areas designed to spark children's imaginations including: a 10 metre pirate ship, an Indian village, a Goldilocks themed cottage, tree houses, an indoor play barn and a "Meadow Maze". Pagel are currently developing their play areas with plans to launch a Rocket Ship zone in 2013 alongside a new climbing frame and swing system.
"Many self catering holidays provide the bare minimum for children" says Lara. "In part, this may be due to fears that accommodation providers have regarding Health & Safety regulations. We have been determined to create an environment that is safe for children without impeding on their freedom to play and have fun."
Lara's comments follow a recent statement by the Play Safety Forum and the Health and Safety Executive, who admitted that a "cotton wool culture" had contributed to an erosion in children's freedom to play outdoors.
Details of developments at Pagel can be viewed on their website: http://www.pagel-france.com
About Pagel Holidays:
Established in 2002, Pagel's child friendly holidays in the South of France offer a completely secure environment where little ones can be given the freedom to explore and a safe place in which to do it. Pagel is fenced in all the way round. Accommodation consists of a stunning 19th Century Stone French farmhouse, a beautiful stone Grange and Goldilocks cabin. All have been lovingly converted into self catering gites that can easily accommodate family and holiday needs. The buildings are set in five acres of rolling gardens and woodland, with an oak copse at one end, a small fruit orchard and plenty of space for children to run around and explore.