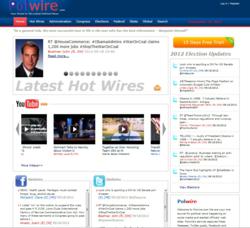 "We fully expect that lobbyists, journalists, elected officials, or anyone who is interested in opposition research, will find our enhanced wire service very helpful
Boca Raton, FL (PRWEB) September 19, 2012
A new political newswire service, Polwire, officially launched this week in South Florida. The site, polwire.com, aggregates, filters and reports on the ever-increasing political news posted on social media sites each and every day. As politicians, elected officials and journalists continue to use social media and 140 characters to stake their positions and comment on today's hot topics, Polwire is positioned to change the way that pundits, lobbyists and the general public gain access to this wealth of information.
For almost two years while developing the site, Polwire has gathered social media posts by elected officials, and made it easier to track by filtering the hot topics and who was saying what:
•The day Paul Ryan was announced as the Republican Vice Presidential nominee, Polwire aggregated over 15,000 social media posts by politicians and elected officials
•The looming Iranian conflict initiated almost 700 posts and potential news making reaction from elected officials in the month of August alone.
•During the last day of the Democratic convention, Polwire filtered over 31,000 posts from officials, journalists and pundits' social media posts.
"Users no longer have to follow hundreds of politicians or check their Twitter account on a regular basis," says Ronen Shefer, one of Polwire's three founders. "Our site allows them the flexibility to accumulate all the information they need in one location and filter it based on their subject of interest." As self-proclaimed 'political junkies', all three founders wanted to develop a way to capture political news and commentary in real time.
Polwire's revolutionary search engine updates the site several times a minute and automatically filters the information, based on predetermined keywords. This unique feature allows users the ability to get up-to-the-minute commentary, as well as the ability to drill down to their subject of interest. Polwire also saves all original posts to a searchable database for future access by professional, even when politicians hope it's forgotten or missed.
"We fully expect that lobbyists, journalists, elected officials, or anyone who is interested in opposition research, will find our enhanced wire service very helpful," says Shefer. The company has already been approached by national special interest groups, which view the site as a very important research tool.
For now, access to the majority of the aggregated data and latest posts is free. For those who wish to gain access to the archived data, or customize their search filters, Polwire offers several subscription options. Polwire plans to continue expanding the site's capabilities to include bills, as well as profile pages for each elected official, or those running to unseat them. Furthermore, users will be able to receive notification when a particular politician posts on a topic of interest to them, whether they are federal, state or global officials.
About Polwire
Polwire is a press release and social media aggregator for the niche markets of politicians, public officials, journalists, the diplomatic community and government officials worldwide. While other newswire services simply 'distribute' data without filters from traditional sources, Polwire uses elected officials' own words and reports them to users in real time. Polwire is a revolutionary working tool, scanning Twitter, Facebook, YouTube and elected officials' web sites several times a minute. Polwire's aggregated data is then tagged by party, state, country, region, congressional chamber or subject matter, and allows users to easily pinpoint and filter issues they wish to research.