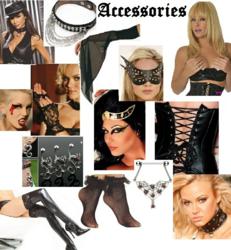 It's easy to wear white head to toe if you simply add a bold piece of jewelry or other accessory.
Christy James
Alpharetta, GA (PRWEB) September 28, 2012
The perfect costume is finally found. Party plans are made. Halloween is just around the corner. Has anything been forgotten? There may be one finishing touch to that special holiday night party - Costume Accessories.
The decorations have been put up on the house, but the costume needs some final touches too. Accessories to a costume can make the outfit from boring to extraordinary.
Whether one is a Naughty School Girl, Sexy Nurse, Voluptuous Vamp or a Wicked Witch, those little extras can make all the difference.
Pre-packaged Halloween apparel sets are fine as a start. However, adding items from home or store is a must. Accessories will make the costume come alive with fun and fantasy.
Makeup is a necessity. Simple eyelashes can be found in practically any store. For a more complete look, one can design and create from scratch or use a kit. A great idea is a collection from Xotic Eyes. Not only does this company offer dramatic facial designs, but full body art as well.
Shoes and Boots can easily turn reality into fantasy. A total look could be centered on a great pair of shoes. A cowgirl is not a cowgirl without her boots. Tinkerbelle isn't a fairy without her fairy dust, wand and slippers. What would a sexy secretary be if she is wearing flats instead of high heeled pumps?
Jewelry can bring the cute, glam or fear factor into a costume. A simple sexy choker or long dark earrings can make all the difference. Try a tiara for the princess or a bat necklace for the vampire.
The thrill and excitement of childhood Halloween memories can come alive in the adult fantasy world of play and parties. One can fight Captain Hook as Peter Pan with his trusty sword. Fool the Big Bad Wolf as Little Red Riding Hood with her basket of goodies. Easily put the kiss of a prince on Snow White's cheek.
Don't forget gloves or arm guards for the hands and stockings for the feet. Anything that is needed is out there from basic nylon to wet look. A multitude of colors and patterns exist. There are spider webs, polka dots, stripes, ribbons, lace, and more
Accessorize for that final touch to set off any Halloween attire. There is an enormous amount of options. On a more practical footnote, accessories can be cost effective purchases if they can be used beyond the Halloween season. Don't forget the possibilities of year around use. Practical and fun!
About Our Company:
Perennial Sales, LLC was Established in January 2001. We are an online retailer of Clubwear, Footwear and Accessories. We deal in mostly Leather, Vinyl and Wet Look. Come to us for Fetishwear, Dancewear, Goth, and other great styles.
We have a nice selection of pre-packaged Halloween costumes. There is an even larger selection of Halloween accessories including footwear, makeup, gloves, hosiery, and more.
We believe in fair play and ABOVE ALL honesty, integrity and straightforwardness. Our business philosophy is simple; we want the customer to be happy with all items and services received.
Kathi Hopkins - Owner
perennialsales(at)gmail(dot)com
770-751-0779
Web Site: http://www.perennialpassions.com