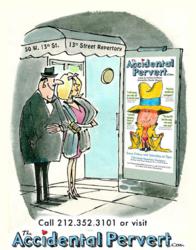 "The Accidental Pervert is one of those hidden gems of New York theatre," Liz Hoffman.
New York City, NY (PRWEB) September 25, 2012
Andrew Goffman is in the fourth year of performing his play, The Accidental Pervert, and wants to shine a bit of light on some of the deeper messages in his show. To do this, he has come up with an interesting approach - from now until Christmas, all relationship therapists will be able to go and see The Accidental Pervert for free.
"The Accidental Pervert is a comedy about my own journey with sex addiction, obsession and relationships," says Andrew Goffman. "I want to engage the people who work with these issues every day, to bring them to the show and make them part of the experience. The Accidental Pervert is a place where life and art can meet, and who better to be part of this than sex therapists?"
Andrew hopes that by sharing his experience with others in an open, comedic manner he can shed some light on an issue that is often very difficult to talk about. "It's not just for sex therapists, I want to invite all relationship therapists to come and see my show for free. Everyone knows a therapist, don't they? Tell them about it!" he says. "The best part about it is, after the show, they get to meet me and help me on the road to recovery," he laughs.
The Accidental Pervert is one of the more unique offerings of off-Broadway theatre. "The play is a comedy, but there is a serious message too," Andrew explains. "It shows how someone can become addicted, but that there's hope too, because in the play I explore how I overcame it to finally find meaningful relationships. And isn't this what everyone is looking for?"
Any sex or relationship professional interested in seeing the show, and meeting Andrew should contact him via the Accidental Pervert website - http://www.TheAccidentalPervert.com
The Accidental Pervert is a laugh-filled show with a serious underlying theme. For four years, Andrew has been entertaining sold out crowds with the story of what happened after he found his Dad's stash of adult videotapes when he was eleven years old. He takes the audience on a comic journey through his porninfluenced eyes, to reveal how his exposure to pornogrpahy overshadowed his relationships with women for many years, until he finally became a loving husband and father. The play is also running in Buenos Aires, starring the popular Argentine comic, Cabito.
The show runs every Friday and Saturday night at 7pm at The 13th Street Repertory Company in NYC.
For tickets and more information about The Accidental Pervert, visit http://www.theaccidentalpervert.com