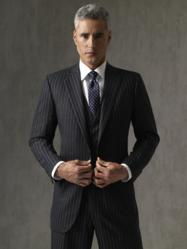 "We make more custom suits and custom shirts than anyone in the business," said Steve Nucci, Division President of Tom James.
Franklin, TN (PRWEB) September 24, 2012
Tom James Company, the world's largest manufacturer and direct retailer of custom men's clothing, is experiencing record growth. In a market where innovation is often found tied to an internet initiative, Tom James' focus on 'We Come to You' service continues to prove high-touch is still very important to today's customers.
"Our customer is busy," said Todd Browne, President of Tom James. "He or she wants to look fantastic in their professional or casual wear, but does not have the time – nor the interest – in shopping. We strike that item off their to-do list."
The sales model Tom James chose back in 1966 was to offer this service face to face in the client's home or office. That personal service is the hallmark of what they do.
"Busy professionals do not want to shop," says Browne. "They do not want to measure themselves. They do not want to click through hundreds of online choices. They want expert advice and they want clothing solutions that are quick, discreet and allow them to get back to their life's purpose. And we are happy to oblige by providing that service."
"'We Come to You®' is so much our hallmark that we've registered the phrase," says Director of Marketing, Michele Stephens. "We've lived that model since 1966. We were first to do it and we do it best."
Tom James clothier for 30 years, Jim Poston, a Division Vice President of Tom James from Greenville, SC says, "When a guy heads out to buy a suit at a department store, he might find it difficult to get someone who cares about serving him."
"If he finds a suit he likes in his size, he stands for the alterations, and then has to come back in a week or two to pick up his suit," said Poston. "We can short-cut that process."
"We meet our clients at their convenience. We gain an understanding of what our clients like and need and, once the pattern is established, we can select fabric and details and be on our way in just a few minutes. Then we deliver the clothing in person to ensure everything is right. It really is a world class experience."
Often, Browne says, if a company says it operates using old-fashioned standards of personal contact, it's to mask the fact they've not embraced today's world. "Nothing could be farther from the truth with Tom James," he said.
"Our clothiers are armed with iPads to assist them in everything from showing garments to processing orders," said Browne. "Technology is our friend. We just use it to assist the process, saving time for our customers."
It's technology that seeks to not only save time, but give a professional great confidence about their appearance. Poston commented, "Most men are not extremely confident picking out clothing, especially accessories. We bring a knowledge that eliminates the question men often ask, 'Honey, does this go together?'"
Another unique factor is that Tom James owns the factories that make their garments. They own the mills that make the cloth, and they actually employ the people who construct their garments. Most retail establishments cannot say that.
"It's said that imitation is the highest form of flattery," said Steve Nucci, Division President for Tom James. "There are imitators of what we do, but none of them have the depth of clothing knowledge or the control over the construction of their garments. Over 95% of our product is made in the United States by facilities that we own and not sourced overseas."
"We make more custom suits and more custom shirts than anyone in the business."
Tom James offers a full array of professional clothing for both men and women as well as sportswear and accessories. "We offer everything in a man's closet," said Ashley Johnson, a Tom James clothier in Nashville, TN. "It's really a full service approach. And we're a sportswear and custom source for ladies wear, as well."
With literally hundreds of fabric choices, Tom James clients can dress like no one else – another factor that makes them unique. Their clothiers can offer everything from entry level off the rack suits to a truly bespoke product like Oxxford Clothes.
"It's America's iconic brand," said Browne. "Oxxford Clothes is the last 'made-by-hand' suit in the US. Tom James Company owns Oxxford and we can offer it to our clients."
A visit to their website http://www.tomjames.com reveals hundreds of Tom James Reviews. With categories like Fit, Convenience, Service, Value and Expertise, one gets the impression their clients have come to rely on a service that isn't found anywhere else.
While Tom James in enjoying 46 years in the custom suit business, the company name itself is not widely known.
"We don't advertise," said Director of Marketing, Michele Stephens. "If you've heard of us, it's because one of our clothiers has reached out to you, or one of your friends has recommended our services. But you've seen our garments on actors and athletes the world over. Our clothing is our best advertisement. Once you've experienced custom, it's hard to go back to off the rack."
Combine that quality with the personal service, says Browne, "and it's hard to beat the options we provide."
Tom James, buoyed by a 10% growth in 2011, currently has 470 clothiers and is in expansion plans. They are hiring for 65 locations within the United States and internationally and recently opened an office in Dubai.
They also were joined by the largest direct sales women's clothing company in the nation – Carlisle-Etcetera. Tom James Company owns half interest, along with Royal Spirit of Hong Kong, in the company. The acquisition forms the largest direct sales clothing company, internationally.
Tom James operates 105 offices in 36 US states and 5 countries. It owns and operates 3 worsted woolen mills, 8 tailoring facilities and factories and is proud to say 95% of its finished clothing products are made in the USA.
For more information, consult http://www.tomjames.com.