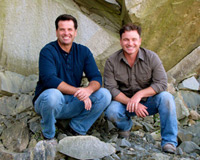 Dallas, TX (PRWEB) September 19, 2012
Dean & Derek, popular radio and TV hosts of DIY Network's Rock Solid, Indoors Out, and PBS's Victory Garden, have been signed to participate in the 2013 CREWS THAT ROCK CONTEST, sponsored by BASF, at WOC 2013.
Dean & Derek (http://www.deanandderek.com) are a perfect fit to not only host the Crews That Rock 2013 winners' reception, celebrating the four winning crews, but also to take part in the Experts' Choice panel, helping to select two of the winning crews. Two crews will also be selected online by popular vote.
Dean & Derek come from a family of stonemasons and have become two of the most well-known and respected stonemasons in the construction industry, specializing in design/outdoor living and masonry projects.
No strangers to WOC, since filming an episode of DIY's Rock Solid back in 2010, one should expect to see Dean & Derek covering this vast tradeshow once again in true Dean and Derek style, filming and interacting with exhibitors and attendees, for some light-hearted and informative webisodes for post-show broadcast on the WOC website.
Following the hugely popular CREWS THAT ROCK contest during WOC 2012, the 2013 competition will once again provide a forum for hardworking crews to share their stories and of project photos from 2012. Crews will submit their stories online at http://www.crewsthatrock.com along with images capturing projects completed between January 1, 2012 through November 30, 2012. Projects will be based on two categories, Community Service/Not-for-Profit and Commercial/For-Profit, and all submissions must be received by November 30, 2012. Two Grand Prize Awards will be given in each of the categories – Audience Award via online voting and Experts' Choice selected by a panel of industry professionals.
The Grand Prize Winner in each category will receive the following:
-- Up to $1,500 airline credit to fly their crew to WOC 2013.
-- Each winning crew receives three complimentary rooms in an official WOC hotel during
WOC 2013
-- Two free seminars per person (90-minute or 3-hour).
-- A bag of FREE WOC "swag" from WOC Show Management & BASF.
Also, all four winning projects will be honored at WOC 2013 on Wednesday, February 6, 2013,
hosted by Dean & Derek. Winners will meet members of the CTR's exclusive sponsor, BASF, and WOC Show Management, along with members of the industry press.
About World of Concrete
World of Concrete is the industry's ONLY annual international event dedicated to the commercial concrete and masonry construction industries. Featuring indoor and outdoor exhibits with the industry's leading suppliers showcasing innovative products and technologies, exciting demonstrations and competitions, and a world-class education program. Visit http://www.worldofconcrete.com for complete show details.
About Hanley Wood
Hanley Wood, LLC is the premier media and information company serving the residential, commercial design and construction industries. Through its operating platforms, the company produces award-winning digital and print publications, e-Newsletters, websites, marquee trade shows and events, market intelligence data and custom marketing solutions. The company also is North America's leading publisher of home plans. For more information please click here.