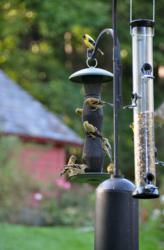 Working outdoors is a pleasure when the air is crisp and the skies are blue.
Lebanon, PA (PRWEB) September 20, 2012
Working outdoors is a pleasure when the air is crisp and the skies are blue. October is the ideal time to clean up gardens and cut back perennials to make room for tulips, hyacinths, alliums and other fall-planted bulbs. For practical seasonal tips, see the "Garden Landscape Tips" section of http://www.preen.com

Hungry birds will be happy to see their favorite birdfeeders return. Before putting feeders out for another season, give them a thorough cleaning to remove old seeds and other debris that could harbor disease.
Prepare new beds now for planting next spring. The soil is usually easier to work in the fall and fall-prepared beds allow for earlier plantings in spring.
Before putting tools away for winter, clean them up, then wipe down metal parts with a lightweight oil to prevent rust. Vegetable cooking oil works fine for this task. Scrub wooden or fiberglass handles to remove dirt and debris. Sand any rough spots to reduce splinters. Use a furniture paste wax on the handles or wipe with linseed oil to keep the wood from drying out.
Leaf mold is the ultimate organic mulch. It's crumbly, dark brown, moisture-retaining mulch made from shredded leaves. It's the ultimate mulch for perennial gardens, but can't be bought at any price. To make it, collect and shred large amounts of leaves, wet them down and cover with a tarp for winter.
Remove spent plants and fruit from the vegetable garden to reduce disease and insect problems next year. Pull out any weeds that have gone to seed, taking care not to distribute the seeds. Dig out perennial weeds such as dandelions and quackgrass. In dry western areas where fall rains lead to heavy weed germination, apply Preen garden weed preventer around shrubs and perennials to keep new weed seeds from germinating.
Protect shrubs near roadways from the spray of salt, water and ice with burlap, plastic tarp or other material.
For cool-season lawn grasses such as Kentucky bluegrass, fescue and bentgrass, an application of fall fertilizer helps grass survive winter and green up fast in the spring. Apply a quick-release fertilizer that plants can absorb quickly, even in cool temperatures.
For more information on gardening and landscaping visit preen.com. Preen is the leading brand of garden weed preventers. Preen products don't kill weeds; they are weed preventers.