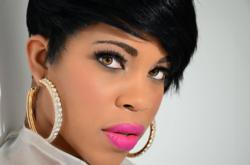 On september 20th, 2012 I will introduce my artistry to the world. . .i have no doubt that "HD" will draw the attention of the masses. . .stay tuned
Los Angeles, CA (PRWEB) September 20, 2012
SOUNDBOMB is proud to present philly grown recording artist GoGo "Yeah i said GoGo" Morrow. GoGo is an atypical creative force making her indelible mark with the entertainment industry as a singer, songwriter, and dancer. GoGo Morrow will release her debut first single, entitled "HD", on soundcloud thursday, september 20th, 2012. The single "HD" will be available for purchase september 27th, 2012 on itunes.
GoGo Morrow began singing in church and, at age 10, joined the Prince Music Theater's Rainbow Company where she honed her theatrical skills over the next seven years. She went on to earn a degree in Music Business from Millersville University. During that time, she worked as an intern for Philadelphia International Records, then as an assistant at Def Jam under the tutelage of her mentor Record Executive Leesa Brunson.
Combining all of her life experience, GoGo Morrow secured a coveted 2 year engagement as a background singer and dancer for Lady GaGa's The MonsterBall Tour. She has also performed as a solo opening act for Rick Ross, LilWayne, Fabolous, and Kendrick Lamar, just to name a few. Just this year, she performed during the Made In America tour and the WaWa Welcome to america festival, opening for Lauryn Hill, Common, The Roots, and Queen Latifah.
"Fierce and fabulous! That's how we describe the diva. . .There's a lot of new talent bursting with originality in Philly, and GoGo Morrow is part of the pack. But, her sultry sound and bold sense of style definitely makes her a stand out." - Philly 360˚ Spotlight