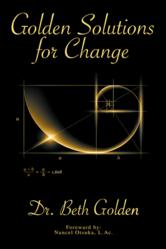 Change can be thrust upon you when you least expect it creating the need to rapidly reprioritize.
Longmont, Colorado (PRWEB) September 20, 2012
It is impossible to go through life without experiencing change, so why not embrace it? Dr. Beth Golden, a certified medical assistant, reverend and doctor of divinity in spiritual counseling, has developed tools and advice for embracing change and adopting gratitude for all life lessons. In her new book, "Golden Solutions for Change," Dr. Golden shows readers they can remain empowered and learn from change, ultimately leading a balanced and happy life.
"Change can be thrust upon you when you least expect it creating the need to rapidly reprioritize," Dr. Golden says. "In either case a bedrock of timeless, spiritual principles are necessary to help make the transitions bearable and often open doors to new talents and opportunities."
Dr. Beth Golden experienced rapid life changes over the last couple years: Dr. Golden lost her first husband in 2003 due to a motorcycle accident, leaving her to finish raising two young sons. In the spring of 2010 she started a new life in Colorado, two weeks later her mother passed away, a few months later her uncle passed away, and a couple months after that her second husband suffered a stroke. A professional in the traditional counseling field, these experiences of life and death lead Dr. Golden to gain in interest in spiritual counseling, and she earned a doctorate in divinity.
"Golden Solutions for Change" explores how the mind, body and spirit are influenced by change, how to remain empowered in a world full of change, and the seven universal principals that create peace and balance in one's life.
Through the book, Dr. Golden has one ultimate goal: to provide readers with the tools to thrive in all endeavors and relationships in life, while emphasizing that change often reveals hidden talents and new opportunities.
"I believe my story is relatable and reminds people they're not alone in our world of rapid technical, economic, social and personal change," Dr. Golden says. "There is a HUGE need for simple & timeless tools on how to refocus during times of rapid change, knowing new talents and opportunities are only a step away."
"Golden Solutions for Change" by Dr. Beth Golden
Paperback, $14.95
e-Book, $3.99
ISBN: 978-1-4685-2527-4
Available at amazon.com, http://www.drbethgolden.com, http://www.barnesandnoble.com, bookstore.authorhouse.com
About the author
Beth Golden is a certified medical assistant, reverend and a doctor of spiritual counseling living in Longmont, Colo. Having created a successful career as an executive in the aerospace and biopharmaceutical industries, Dr. Golden decided to pursue more personally meaningful endeavors, earning her Master of Divinity and Doctor of Divinity in Spiritual Counseling from the University of Metaphysical Sciences. Dr. Golden uses unique tools and approaches to deliver consistently discerning and life-changing perspectives for those looking to not just cope, but thrive in all their endeavors and relationships.
# # #