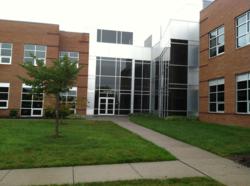 We are excited to expand the BE corporate culture of software excellence and open new doors in Blacksburg
Blacksburg, VA (PRWEB) September 20, 2012
Buchanan & Edwards (BE) is excited to announce the opening of a new office in Blacksburg, Virginia. This office will be primarily dedicated to software development and will serve as an opportunity for BE to collaborate with the technical excellence of Virginia Tech's faculty and students. The BE Blacksburg Software Development Office officially opened doors on September 18, 2012.
"We are excited to expand the BE corporate culture of software excellence and open new doors in Blacksburg," said Frank Hellwig, CTO Director. "It is our hope that the office will serve as a bridge between the greater Washington DC technology industry and the advanced technology resources and expertise that exist at Virginia Tech."
The new office is located at the Virginia Tech Corporate Research Center (VTCRC), a facility with strong ties to both the technology community and the university.
BE's efforts at this office will be initially focused on cyber security projects and mobile application development. Hellwig, will dedicate a portion of his time working in the new office with BE's Virginia Tech partners, as well as current and future interns while they attend Virginia Tech.
# # #
About Buchanan-Edwards:
Buchanan & Edwards (BE) is an information technology and professional services consulting firm, which provides clients with high-end, advanced technology solutions and organizational management services to ensure mission success anytime, anywhere.
Serving the federal sector since 1998, we base our solutions on an in-depth understanding of our clients, their mission, and the unique challenges they face. BE is a Microsoft Gold Independent Software Vendor (ISV) Partner, the winner of the 2011 Small Business of the Year Award for the US Department of State and a three-time Inc 500│5000 awardee.
BE employs a disciplined management approach that has been independently appraised as compliant with CMMI Level II processes and ISO 9001:2008 standards. For additional information, please visit our website at http://www.Buchanan-Edwards.com.