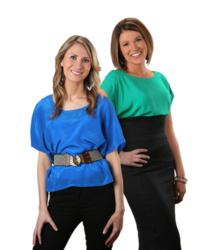 Boise, Idaho (PRWEB) September 19, 2012
Thrifty shoppers are hot in popular culture, thanks to reality television shows. Frugal living and couponing are hot on national talk shows and the web. Given the nation's economy, American families are looking for ways to save real money.
National Coupon Month celebrates the concept of savings throughout September. Now is the ideal time to learn how to embrace the practice of savvy shopping. Frugal living experts Joanie Demer and Heather Wheeler of TheKrazyCouponLady.com star in a video aimed at novice couponers to introduce newbies to the world of savings.
The video takes a cue from TheKrazyCouponLady.com, blending edgy humor with user-friendly tips. Learn the basics of how to get started, get inspired and have fun while embracing the world of coupons.
Joanie and Heather hope these segments will teach shoppers how to be fun, frugal and hip without investing too much time in the education process. Forget the image of the blue-haired grandmother digging through her purse for a tattered coupon: This is a new generation of couponing designed for young, stylish women on the go.
Watch the videos for a special catchphrase and a chance to win a copy of their book, "Pick Another Checkout Lane, Honey."
Save money without losing precious time! Visit TheKrazyCouponLady.com and look on the home page for the video that makes couponing worth a click.
Heather Wheeler and Joanie Demer, founders of TheKrazyCouponLady.com and authors of Pick Another Checkout Lane, Honey! are money saving, bargain shopping and frugal living experts. With their knowledge and savvy, they've sold over 50,000 books, generated 2 million unique viewers per month at http://www.thekrazycouponlady.com, and garnered 869,000+ Facebook fans and 29,000 Twitter followers.