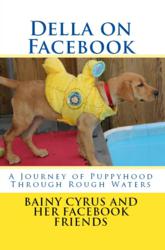 This book depicts one year of Facebook postings on a mischievous puppy that eats reading glasses.
Norfolk, VA (PRWEB) September 20, 2012
"Della on Facebook" by Bainy Cyrus begins with the author's 50th birthday surprise from her husband: A seven-week-old yellow Lab named Della and thus began almost-daily Facebook postings and photos, accompanied by selected comments from the author's friends.
Imagine the author sharing a scary story on Facebook about her three-month-old Della eating broken glass and then she receives a comment from an old college friend reassuring that her own dog had eaten a beer can and turned out unscathed? Or when the author announces that she has decided to use a prong collar on Della and all the comments rush in with pros and cons? Imagine owning a dog that unlocks the gate at the indoor daycare facility, releasing 30 dogs, and ends up in a viral video and even on the news…In fact, Facebook has brought love and admiration for Della despite all her mischief.
"The idea of this book 'Della on Facebook' popped up three months later when I realized how much my friends love hearing Della's adventures according to their comments, many of which are humorous and creative," Cyrus says. "Some of these comments regale with my friends' own canine experiences; other comments offer great suggestions such as what to do when your dog eats a fire starter. In all, everyone is pretty much writing this book!"
Intended to entertain and educate readers about what to do with a puppy's situation such as chasing a bee, the book also shares the author's personal reflections and memories of her life with past dogs. The book also includes numerous photos of Della and her canine friends, most of which were taken at the Happy Tails daycare.
Della on Facebook is available for sale online at Amazon.com and other channels.
About the Author
Bainy Cyrus resides in Norfolk, VA with her husband Steve and their dog Della. She is an author of a 2010 award-winning memoir All Eyes, A Memoir of Deafness and works as a job coach for people with disabilities.