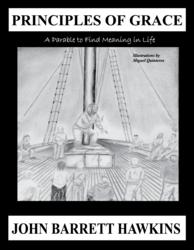 San Diego, CA (PRWEB) September 20, 2012
Principles of Grace: A Parable to Discover Purpose in Life, the new book by John Barrett Hawkins, provides a step-by-step guide for building self-esteem. The book is based on Hawkins' 10-year study of Peak human experience.
"I wanted to know everything there was to know about how the world's peak performers identified their callings and the techniques they relied upon to fulfill their purpose in life," says Hawkins. "I read books by psychologists, spiritual masters, personal coaches, Olympic athletes, top entrepreneurs and Eastern mystics. I studied countless books on the subject of achieving personal greatness, and mined them for insights, ideas, advice, wisdom and success secrets. Along the way I took copious notes and compiled all of the most insightful information into a personal excellence program, which became the basis for Principles of Grace."
Principles of Grace is a 94-page parable. The softcover book is available at Amazon.com and the e-book edition is available through Kindle.
According to Hawkins' research, self-esteem is the foundation of a successful life. Principles of Grace provides a roadmap for developing self-esteem and achieving your dreams. Here are 10 of the book's many success secrets for developing self-esteem:
Success Secret 1:
Start an "accomplishments scorecard." Write down everything that you have accomplished in your lifetime; things like learning how to ride a bike, playing an instrument, or getting good grades on a test in school. By recalling previous accomplishments you gain the self-confidence required to do new things.
Success Secret 2:
Get involved in after school activities where you can express your passions and natural talents and make friends based on common interested and common goals.
Success Secret 3:
Surround yourself with people who appreciate your unique qualities. Disassociate yourself from people who are constantly criticizing you or putting you down. Avoid people who express pessimism about your hopes and dreams.
Success Secret 4:
Find a mentor. Whatever your dream may be, you can find a person who has already achieved a similar goal. Identify that person and write them a heartfelt letter. Tell them about your dreams and ask if they would offer advice in the form of a half-hour monthly phone call. Most successful people love to share their knowledge.
Success Secret 5:
Read books concerning your hopes and dreams. When you read a biography about someone who has accomplished the goals that you are pursuing, you become inspired. And when you read "How To" books you learn the tricks of the trade.
Success Secret 6:
Affirm the self-esteem of others by recognizing their finest qualities. One of my favorite exercises for developing self-esteem is to title a piece of paper: "What I Like About You." Then write down everything you like about a friend or family member, and give it to them as a gift. You will be amazed by the response. The gift of appreciation is one of the most special things you can give to another human being.
Success Secret 7:
Get involved in some kind of community service activity. There is no better tool for building self-esteem than serving others, particularly those in need. This can be as simple as helping your little brother or sister with their homework.
Success Secret 8:
Believe in your divinity. Every religion and every spiritual tradition throughout the world teaches that human beings were molded in the image of our Creator. Believe that you are a child of God. As such, you are perfect just the way you are.
Success Secret 9:
Believe in yourself. Remember, self-esteem is the value you place on yourself. Choose to believe in yourself. Choose to believe that you can accomplish any goal that you set out to achieve. Don't worry about what other people think about your chances of success.
Success Secret 10:
Make a lifetime commitment to your personal development. Read books. Listen to inspirational audio programs. Attend lectures and seminars. Take classes at the Learning Annex or a local college. The more you learn, the more your self-esteem will grow.
Att. Media: contact the author for interviews or review copies. Visit http://www.JohnBarrettHawkins.com/presskit for cover art, author photos, excerpts, book summary, chapter by chapter preview, mock book review, news pegs, articles written by Hawkins and more.