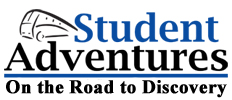 Our goal was to create a service that makes trip planning easier for teachers, than any of our competitors. Mission accomplished.
-Chuck Koester
Grand Blanc, MI (PRWEB) September 20, 2012
Michigan based, educational student tour provider, Student Adventures is excited to announce major improvements in services offered to teachers this year, including upgrading the Easy Track™ Online Tour Management Platform.
"Easy Track Online Tour Management™ is the ultimate service that features participant trip registration, individual billing, online tracking and tour management. Our goal was to create a service that makes trip planning easier for teachers, than any of our competitors. Mission accomplished." -Chuck Koester Student Adventures Founder
In addition to enhancing services for tour administration, Student Adventures has been working with vendors over the summer to keep travel costs as low as possible while continuing to add educational value to the trips. Educational travel itineraries have been enhanced in the most popular destinations, including Washington DC, Chicago, and New York City.
For High School students studying Modern Civil Rights History, Student Adventures has also created the American Civil Rights Experience. This tour includes visits to Birmingham, Selma, and Montgomery Alabama and can include stops in Memphis or Atlanta. The tour is designed to take students back in time to learn about the critical events in the Civil Rights Movement in the 1950's and 1960's.
"The Student Adventures Team, takes pride in working with educators on an individual basis to customize tours that perfectly matches their educational objectives and fits within their budget. We are currently providing complimentary quotes to all teacher who are seriously considering traveling with students this coming Spring." - Tammy Koester - Senior Tour Consultant
Student Adventures offers customized student group travel packages to schools throughout the country. Whether you are looking for a one day trip to a destination close to home or a multi-day educational tour to one of America's great cities, we have the experts on our team to handle all of the details. For more information on educational student tours, please visit http://www.studentadventures.org