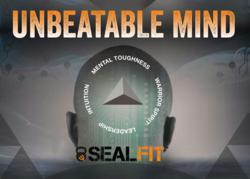 Santa Cruz, CA (PRWEB) September 18, 2012
Join an elite group of individuals for the Unbeatable Mind Seminar on Saturday, September 22 at Crossfit Amundson, at 3703 Portola Drive in Santa Cruz, California. Commander Mark Divine will teach mental toughness techniques that he's learned during his successful business career and graduating as honor man in his SEAL TEAM 170. He'll focus on Mental Toughness, which is a fast-growing niche market within the fitness industry.
Brought to the growing CrossFit community by Divine, founder of SEALFIT and creator of the Unbeatable Mind training system, this one day seminar is designed for professionals and athletes of any fitness level who are seeking to up their mental game and develop an Unbeatable Mind. Trainees experience increased focus, peace of mind, resiliency, mental toughness, calmness under pressure and presence as a result of putting the principle of this program to work in their daily lives.
Unbeatable Mind already has a huge following and hasn't yet been mass marketed to the United States. Mental toughness training leads to better overall performance and maybe even a coveted sports title (Mark just wrapped up coaching the United States women's track cycling team that won 5 silvers!) The 12 month online program, taken remotely anywhere in the world, teaches the inner secrets of Navy SEAL Mental Toughness and develops a Warrior Offensive Mind-set.
This seminar does not require a high degree of physical readiness therefore it is suitable for all levels.
What to expect:

Unbeatable Mind philosophy and Mental Models Lecture
Concentration and Attention Control Skills and Practices
Arousal Control: Breathing Skills and Practices
Mental Toughness Attitude, Awareness and Skills Lecture
Intuition and Envisioning Skills and Practices
Warrior Yoga Level I and II forms
Warrior Yoga practice session
Training from 9am to 5pm on day of event.
Meals and lodging NOT included
Schedule:
8:30 to 9:00 - Check in
9:00 to 10:30 - Unbeatable Mind philosophy & Mental Models Lecture
10:30 to 12:00 - Warrior Yoga Level I and II forms
12:00 to 1:30 - Lunch break and silent practice time
1:30 to – 3:00 - Skills and Practices of Unbeatable Mind
3:00 to 4:00 - Silent practice time
4:00 to 5:00 - Warrior Yoga Practice Session
Cost: $150 for inaugural event (normal fee is $495). Enroll here: (http://unbeatable.safechckout.com/seminar). For more Unbeatable Mind Academy training information visit http://www.unbeatablemind.com/.
More on Mark Divine: Divine released his Unbeatable Mind Academy in October of 2011, which utilizes an integrated warrior development model, drawing from his 20 years as a SEAL and business leader, 25 years as a martial artist, and 15 years as yoga practitioner. Unbeatable Mind is uniquely effective at elevating clients to a higher level of operating, thinking and leading – encompassing the full spectrum of human experience – Body, Mind and Spirit in Self, Team and within Organization. Divine's book, 8 Weeks to SEALFIT, SEAL training Kokoro Camp s, and the Unbeatable Mind Academy are all essential programs that train individuals to become Warriors. Visit http://www.sealfit.com/ for additional training and Unbeatable Mind Kokoro Camp information.
Press Inquiries? Contact Tiffany Melone at (858) 224-2460 or tiffany (at) deliciousbuzz (dot) com.