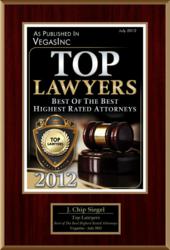 Las Vegas, NV (PRWEB) September 18, 2012
Jay "Chip" Siegel, founder of J. Chip Law Office, was recently included the Top Lawyers special publication by Law Vegas news magazine VEGAS INC. The magazine partnered with professional rating company Avvo to recognize the top attorneys in Southern Nevada. The magazine listed more than 120 attorneys who work in various practices, with only 10 of those individuals being criminal defense attorneys. The selections are made based on Avvo's ratings, which use a proprietary algorithm to rate the attorneys on a 10-point scale. The ratings factor in peer endorsements, experience, education, training, research, publishing and awards.
The recognition serves as a testament of Siegel's dedication to providing high-quality legal representation for his clients. With more than two decades of experience as a criminal defense attorney, he is highly knowledgeable in his field. Siegel has also worked as a deputy district attorney, which has given him a competitive edge in handling criminal defense cases. The attorney recently celebrated his 15th year in private practice and 10th year as a founder of J. Chip Siegel Law Office.
Siegel has had many notable victories in his legal practice over the course of this year. One of them was the dismissal of charges in a jury trial of a casino marker case in which the client owed more than $600,000 to local casinos. A "marker" is a credit gambling instrument used for allowing a gambler to have access to all or part of the credit line approved for him by a casino. In another example, Siegel successfully handled drug possession cases for several tourists who were charged with felony drug possession at several casino pools. They had all their charges dismissed. The seasoned attorney also helped other clients get felony DUI charges reduced to misdemeanors or dismissed altogether.
Besides being a criminal defense attorney, Siegel is a published author for a DUI article in the "Inside the Minds" series by Aspatore Publishing. He has also spread his knowledge to others in his profession by lecturing on DUI topics for the Nevada criminal law association, the Clark County Public Defender's Office and LawReviewCle. Siegel has previously served as president for Nevada Attorneys for Criminal Justice.
Those who are dealing with the possibility of criminal convictions should not try to take matters into their own hands. With the help of a Las Vegas criminal defense attorney, they could possibly get their charges reduced or dismissed. Contact the J. Chip Law Office to obtain the help of an attorney who has been recognized for standing out in his profession. Siegel offers free case evaluations, during which he can review the cases of potential client and discuss possible ways he might be able to provide assistance. More information is available at http://www.LegalChip.com.
With more than 20 years of experience practicing criminal defense law, attorney J. "Chip" Siegel is equipped to defend individuals who have been accused of criminal offenses. Siegel handles a variety of case types, from those involving casinos to cases involving DUI, violent crimes and weapons offenses. The attorney, who has experience as both a prosecutor and a criminal defense lawyer, is able to provide aggressive representation for his clients both in and out of the courtroom. Contact Siegel today to learn about the assistance he might be able to provide in your case.