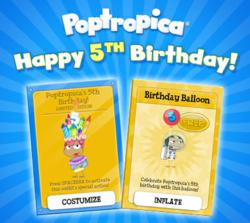 Poptropica's growing loyal fan base is a testament to the quality of the content of the adventures featured on each of our Islands
BOSTON, Mass. (PRWEB) September 19, 2012
Poptropicans are invited to join the party as the popular virtual world for kids celebrates its fifth birthday this month. All visitors to Poptropica can celebrate by playing a fifth-birthday balloon-pop game to try to win a commemorative firework birthday cake costume for their Poptropicans. Since its launch, Poptropica has seen explosive growth, with nearly 500 million characters created on the popular virtual world for kids.
Created by Jeff Kinney, author of the bestselling "Diary of a Wimpy Kid" series, Poptropica debuted in September 2007 with one simple Island. Today, the site has grown to nearly 30 Islands, each with its own story to tell and unique adventures for the more than 8 million kids who visit each month.
Of Poptropica's birthday celebration, Kinney said, "We're thrilled to be delivering our 30th Island just after our fifth-year anniversary. Poptropica's stories have reached millions of kids across the globe, and we believe we're delivering something really unique: quality stories and experiences that will stick with kids for the rest of their lives."
Earlier this year, the site released its new social network offering,"Poptropica Friends," a safe way for kids to connect in the game. To date, more than 60 million friends have been added on the virtual world for kids, all of them connecting without one piece of personal information shared or collected.
"Over the past five years, we have watched Poptropica grow from a simple gaming website with a couple of Islands to a robust, popular community that offers kids a safe place to play and connect online," said Jess M. Brallier, publisher of Poptropica. "Poptropica's growing loyal fan base is a testament to the quality of the content of the adventures featured on each of our Islands."
Named as one of TIME magazine's Top 50 websites of 2011, Poptropica has been visited by more than 244 million kids worldwide since its launch in 2007. Players come from more than 130 different countries and have their web browsers set to more than 100 different languages, ranging from Spanish and Sanskrit to Vietnamese and Croatian. All Poptropica Islands are free to play, and each represents a unique theme and challenge.
Kids can stay up to date on news about upcoming new Islands and other exciting developments in the world of Poptropica on the official blog at http://blog.poptropica.com/.
About Poptropica (http://www.poptropica.com)
Poptropica is a virtual world in which kids explore and play in complete safety. Every month, millions of kids from around the world are entertained and informed by Poptropica's engaging quests, stories and games.
Kids create a "Poptropican" character to travel the many Islands of Poptropica and use gaming literacy to enjoy a narrative that is often rooted in factual history. Problem-solving skills are honed as kids discover and solve mysteries unique to each Island.
There are always new areas to explore in this ever-expanding world where kids can collect objects, read digital books and comics, watch movies, and compete in head-to-head competition. Parents can always trust that their children are playing – and learning – in a safe online environment.
Poptropica is published by Family Education Network, a part of Pearson, the education, services and technology company. Pearson's other primary operations include the Financial Times Group and the Penguin Group.