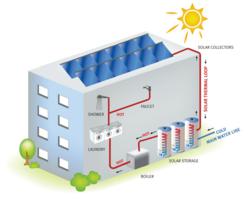 We're proud to partner with affordable housing organizations to save energy, reduce operating costs and increase property values with solar water heating
Los Angeles, CA (PRWEB) September 19, 2012
Promise Energy represents the new face of solar water heating in California. The company provides solar energy service agreements that maximize state and federal tax credits otherwise unavailable to nonprofit housing organizations. Today the company announced they will be launching a new program at the annual Southern California Association of Non-Profit Housing (SCANPH) conference in Los Angeles on September 28th.
Promise Energy's new program allows nonprofit housing organizations to lock-in today's historically low gas rates for up to 20 years, reducing their dependence on rising utility costs, and generating significant savings on a major operating expense – all with little or no upfront investment. The move signals another step forward for a company quickly emerging as a dominant player in the solar water heating market throughout California and the Western United States.
"We're proud to partner with affordable housing organizations to save energy, reduce operating costs and increase property values with solar water heating," said Jonas Villalba, VP of Sales for Promise Energy. "It's a great example of what's different about Promise: we're not just selling solar equipment, we're selling energy."
Backed by the resources and expertise of their founders at leading national solar finance company Adam Capital, Promise Energy is changing the game by offering a growing network of qualified solar installers access to top-quality solar thermal equipment, and the financing tools to quickly and easily generate Promise Energy Service Agreements for commercial customers. This makes it easier than ever for multifamily housing projects and other commercial customers to improve building performance and sustainability by taking advantage of solar hot water for little or no investment, while still saving thousands of dollars a year on gas utility bills.
"We find many affordable housing customers who want to take advantage of solar water heating, but can't afford the upfront cost, and don't qualify for the 30% federal tax credit," says Villalba. "With a Promise Energy Service Agreement, we handle the whole system from start to finish: design, installation, operation, maintenance, insurance, warranties, permits, regulatory compliance, federal tax credits, state incentives – all of it. For up to 20 years!"
"This makes us true partners with our customers," said Andy Mannle, VP of Strategic Development for Promise Energy. "The convergence of the federal tax credit and generous rebates from the CA Solar Initiative Thermal program make this a historic opportunity to get off the utility roller coaster and lock-in today's low gas prices for decades to come."
"We generate heat right on our customer's roof, so our prices aren't dependent on fossil fuels, or the expensive infrastructure necessary to deliver them to customers," said Villalba. "This makes solar thermal a cleaner, more efficient source of hot water. With our flexible financing options, you simply decide how much you want to save, and we do the rest."
About Promise Energy, LLC:
Promise Energy LLC, is a full-service solar water heating company dedicated to overcoming market barriers and making solar hot water affordable and accessible throughout California and the Western United States. With our custom Promise Energy Service Agreements, large inventory of top-tier equipment, and growing network of licensed solar thermal installers, we're partnering with building owners and tenants to save energy, and reduce operating expenses. Founded by the leadership team at Adam Capital Inc, a leading financier of rooftop-scale solar projects throughout the country, Promise Energy provides long-term energy savings by installing and operating solar water heating systems for up to 20 years with little or no investment, and no maintenance expense. To find out more, contact us at http://www.promiseenergy.com.
About Adam Capital, Inc. :
Utilizing senior-secured debt as our primary lending strategy, Adam Capital has become a leader in funding clean energy projects. We specialize in financing, constructing, owning and operating clean energy assets with long-term cashflows. Adam Capital was one of the first asset-based lenders in the country to leverage ITC cash grant payments and other local incentive rebates as collateral, and we continue to be an innovator in rooftop-scale clean energy finance. We have committed funding to over 1000 rooftop solar projects in multiple states and utility districts, serving the needs of individuals, schools, nonprofits, and businesses. With the continued expansion of Promise Energy, we are bringing our proven success and expertise to the commercial solar hot water market. To find out more, visit http://www.adamcapital.com.