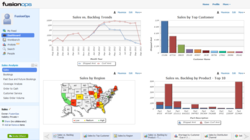 "The solution is also beneficial to sales executives who can now have access to up-to-date data on their company's recognized bookings and revenue, all from their browser or iPad."
Sunnyvale, CA (PRWEB) September 19, 2012
FusionOps, a leading provider of self-service, best-practice, pre-built analytics for the supply chain (a segment of the business intelligence market), announced today a significant extension of its cloud-based platform. Two major new features, comprehensive dashboards and reports for sales, and the FusionOps iPad app, are now available.
"These new capabilities are very exciting," said Gary Meyers, CEO of FusionOps. "Supply chain management will now have a real-time view into their customers' bookings, shipment, credit, profitability, accounts receivable, and inventory information contained within their company's ERP system. The solution is also beneficial to sales executives who can now have access to up-to-date data on their company's recognized bookings and revenue, all from their browser or iPad, ensuring that their orders are booked and their bookings have shipped. Inventory data can help focus salespeople on maximizing company success."
Sales Subject Area
The new sales area contains over 70 new out-of-the-box reports and dashboards. Bookings reports include orders by product, by salesperson, and by region. Shipment reports provide instant visibility into deliveries on time to customer request date, shipments in full, shipments on time and in full (OTIF), and sales performance compared to established sales targets. Inventory reports include inventory coverage for orders due over the next few days and week. Customer service dashboards report on customer satisfaction by salesperson and returned quantity by customer service rep. Data for the dashboards is extracted directly from the corporate enterprise system, and is automatically kept up to date as new orders and shipments are processed.
These new sales analytics add to the hundreds of FusionOps pre-built supply chain analytics in procurement, order fulfillment, production planning, MRP, and supplier performance. FusionOps puts the power of advanced analytics, including easy-to-use, self-service fine-tuning and drill-down capabilities, directly into the hands of supply chain business users, without burdening IT departments. Visibility into supply chain data in real time allows business managers to quickly identify problems and take corrective action, while also exposing sales opportunities, all benefiting the company's bottom line.
iPad App
The FusionOps app for iPad provides mobile users access to all FusionOps reports and dashboards, including the new sales metrics, delivering complete visibility across the supply chain. The FusionOps app is available for immediate download, at no charge, by searching for "FusionOps" in Apple's App Store at http://www.itunes.com/appstore.
"We're pleased to add mobile capability and a comprehensive sales analytics area to our cloud-based analytics solution," said David Hamdani, Senior Product Marketing Manager at FusionOps. "These new reports were developed to answer questions we hear from our customers every day: Have we reached our revenue goal for the quarter? Are our customers' orders booked in our SAP system? How are our salespeople performing? Do we have enough inventory to meet our customers' orders, or will we have to table them as backlog? How much backlog are we averaging? What are our receivables by customer for the current quarter? FusionOps answers these and nearly any other sales question with our affordable, easy-to-use solution."
FusionOps is available immediately as a Software as a Service subscription, starting at $2,000 per month for up to 50 users. For immediate information, or to sign up for a product demonstration, contact our sales department at sales(at)fusionops(dot)com.
About FusionOps
FusionOps is the only product that combines supply chain and SAP expertise to deliver pre-built dashboards and self-service analytics for global manufacturing supply chain and sales managers, in just one day. Founded by a team of SAP supply chain developers, FusionOps' patented, cloud-based, SaaS platform delivers fully-functional, best-practice, supply chain dashboards, reports and metrics, with easy-to-use, self-service functionality for business users, without burdening the IT department. Headquartered in Sunnyvale, CA, FusionOps, a Certified SAP Software Partner and Gartner "Cool Vendor," is privately held. For additional information, please visit: http://www.fusionops.com.
###
Editorial Contact:
Frances Mann-Craik
Addison Marketing
frances(at)addisonmarketing(dot)com
+1-408-868-9577
FusionOps Contact:
David Hamdani
FusionOps
dhamdani(at)fusionops(dot)com
+1-408-799-4418
© 2012 FusionOps, Inc. FusionOps and the FusionOps logo are trademarks of FusionOps Inc. in the United States. iPad is a trademark of Apple, Inc., registered in the U.S. and other countries.