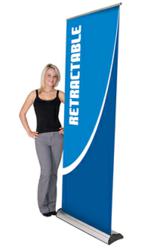 Beautiful and bold.
Dallas, TX (PRWEB) September 27, 2012
It's cool to be fresh and stand out at the trade shows. National Trade Shows new tension fabric display features a cool new look.
It is said that 'Show Presense Firm', http://www.nationaltradeshowdisplays.com/ is now offering over 1,000 products, all of which are designed to ensure a seamless trade show experience. Independently owned and operated, National Trade Show Displays has been platformed that their clients are having the right hardware, lighting and visuals on hand to get their story told.
In an ever shifting environment of fluctuating economies and international commerce, good marketing requires both planning and creativity. Whereas a full page ad in a major newspaper may have been the gold standard of advertising fifty years ago, today's consumers are gathering their information from various and diverse sources. Many companies are finding that investing in trade show displays provides both the flexibility and visibility to target today's consumers as the stands can provide companies a physical presence at not only trade shows, but also at fairs, events, and an array of community gatherings.
Aramark, a leader in the service industry, saw the potential of having a stand and worked with National Trade Show Displays to create their new 4 x 3 pop up tension fabric display. National Trade Show Displays, a supplier and designer of Trade Show Displays, printed the Aramark graphics at their Dallas location and placed them onto the Hopup hardware so that company representatives would have a display which could be easily set up within minutes.
The New Hopup was a logical choice for Aramark, as its strong but lightweight frame suspends a fabric graphic mural. Dramatic effect can be accomplished through the use of lights. The display sets up quickly, and can be struck in minutes, packing easily into the provided travel bag. Though available in many sizes, Aramark chose to go with the four foot by three foot display for their needs. The company's Marketing Manager not only found the Hopup to be extremely user friendly, but called National Trade Show Display's graphics on the project "beautiful and bold." Aramark was so happy with the display, they have become repeat customers of the Dallas based company.
It isn't only companies that are adding trade show displays to their marketing campaigns. When the Missouri Department of Natural Resources/ Soil and Water were looking to upgrade their own presence at events, they too turned to National Trade Show Displays. As a government agency, the MDNR's mission includes the administration of programs which involve education and awareness campaigns. For that reason, they needed a display on which the graphics could be quickly changed out. They found the 4 x 3 Hopup tension fabric display fit the bill. The stand's removable cassette banner meant that it could support a variety of graphic panels. The slide in graphic mounting made changing out these panels a breeze, while the ratchet graphic tensioner made it possible to quickly and easily stretch each graphic out for a clean professional look. The anti-slip base added to the banner's practical appeal for the public agency which could foresee needing to set up their demonstrations in a variety of locations. For easy transport, an EVA molded carrying/storage bag was included with each banner stand. The Missouri Department of Natural Resources was so happy with the find that they purchased no fewer than twenty two of the Imagine Retractable Stands from National Trade Show Displays.
Promotional experts from private companies to government agencies are finding trade show displays an indispensable tool worth placing in their marketing budget.