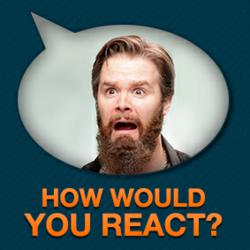 We want our users to feel empowered when they're met with unfamiliar circumstances. We want them to be in control.
Seattle, WA (PRWEB) September 19, 2012
React Mobile, a leading developer of personal safety applications, is excited to announce the start of a two month long "How would you React" Facebook photo vote contest in an effort to increase safety awareness with the general public while offering the entrants a chance to win great prizes.
In real life scenarios, users can "react" to threatening and unknown situations by activating their React Mobile application to notify family, friends, and authorities that they are in danger. For the competition, entrants will "react" to the provided humorous and not-so-real life situation by posting a picture of their reaction to the React Mobile Facebook page's contest tab.
To participate, users must login to Facebook and "like" React Mobile's contest page. They must then show how they would respond to the situational question posed with a picture of their reaction. Over the span of two months, four different scenarios will be presented that Facebook fans can react to. Users will be allowed to vote for submitted photos to determine whose reaction is the best. Each situation will yield one unique winner who will claim the associated prize.
Reactions will be sought for unusual, even impossible situations like summer never ending, catching your cat washing your dishes, or being reverse pick-pocketed and winding up with $100 in your pocket. Prizes will relate to the situations and will include items such as an iPad, a $100 cash prize, and a full service house cleaning.
"We want our users to feel empowered when they're met with unfamiliar circumstances. We want them to be in control. This contest strives to bring awareness to personal safety through a fun and engaging competition that gets people involved and thinking about the safety of themselves and their friends and families." said Robb Monkman, co-founder of React Mobile. "Whether you're reacting to an online contest or a real life situation, we want people to know that it has meaning."
In addition to the Facebook contest, React Mobile has released two infographics aimed at informing parents and students of the potential dangers lurking at home and at school. The first, found here, gives statistics on property crime, home invasion, and child abduction, plus a list of top safety tips for parents. The second, found here, shows how dangerous a college campus can be with information on drinking incidents and sexual assaults.
The React Mobile app can be downloaded on the Google Play Store or iTunes App Store.
About React Mobile:
React Mobile LLC was established in 2011 with the singular goal to protect people in times of distress. Their team has worked tirelessly to develop a simple, easy-to-use safety tool that can improve the safety of our communities through the use of technology. Safety is the core of React Mobile, and they will continue to pursue their goal to increase situational safety and to enhance the safety of students, employees, and loved ones.