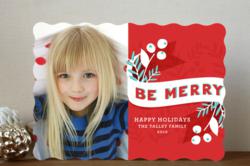 Our community of indie artists set a new standard this year for beautiful and cutting-edge design" said Mariam Naficy, CEO of Minted.
(PRWEB) September 19, 2012
Minted (http://www.minted.com), the global design community and e-commerce site, today announced the winners of its Joy to the World holiday card design challenge. Minted's community of consumers and designers cast more than 933,000 votes to select this year's crop of more than 300 winning holiday cards and Christmas cards on Minted.com. The designs, which are crowd-sourced from Minted's global community of independent artists, will reach millions of homes this holiday season. The indie artists behind the designs earn a cash prize and a commission on sales of their designs.
"Our community of indie artists set a new standard this year for beautiful and cutting-edge design," said Mariam Naficy, CEO of Minted. "Minted is known for the world's best design and we owe that reputation entirely to our world-class artist community."
The first prize of $7,000 – the largest individual cash prize in Minted's history – was awarded to Angela Marzuki of Wilmington, NC for her design "Be Merry Berries." Marzuki's design received the highest scores as voted upon by consumers and her fellow designers. The winning design – features illustrated berries, ribbon, a subtle texture, and the phrase "Be Merry."
The second prize of $4,000 was awarded to Cadence Paige Design of Galena, OH for her intricate, ornamental design "White Christmas."
The third prize of $2,000 was awarded to Jennifer Wick of Harrisburg, PA. Wick's winning design "Tis the Season" beautifully combines illustrated florals and lettering.
See the full 2012 Minted holiday card collection at http://www.minted.com/holiday-photo-cards
About Minted:
Minted is a venture-backed design community and e-commerce site, crowd-sourcing graphic designs and art from a global artist community and selling those as premium printed products focused on the $10 billion stationery market and the $48 billion wall art market. Benchmark Capital, Menlo Ventures, and IDG Ventures SF are investors in Minted, along with angel investors Marissa Mayer, Jeremy Stoppelman, and others.
All the designs featured on Minted are crowd-sourced through design competitions and curated by the community. The company holds ongoing competitions, giving designers and artists the opportunity to submit their work. Those voted to the top are sold on the site. Designers earn cash prizes and commissions on all their sales.
Minted has radically transformed what consumers now expect in holiday cards, wedding invitations, save the dates, birth announcements, business cards, and other personal stationery. The company's paper and printing is of the highest quality and it leads the market with the freshest designs, newest formats and most coveted details. Minted's fresh, unique designs have been featured on The Today Show and The Early Show, and in Real Simple, Town & Country, InStyle Weddings, Food & Wine and other major national magazines.