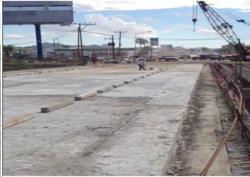 Sonoyta, Mexico (PRWEB) September 19, 2012
The bridge through the town of Sonoyta, Mexico has temporarily opened two lanes of the four-lane bridge to light vehicle traffic heading to Rocky Point and returning to Arizona. The decision to open the new section of the bridge to limited, two-way traffic ahead of schedule was made by Sonoyta city officials in order to alleviate traffic concerns and road conditions faced by smaller vehicles entering the wash road on the Sonoyta-Puerto Peñasco route. The office of Seguiridad Publica announced the temporary opening on Wednesday at 11am..
During construction of the bridge, travelers to Rocky Point were diverted through the "El Vado" (wash detour) as an alternate route. Heavy rains and flooding covered the area during the monsoon season and the wash road became difficult to navigate and often impassable, with strong currents and high water flowing across it. By the end of the summer tourist season, the traversability of the bridge became unpredictable, as changing weather, a network of 5 contributing washes fed by draining dams high above and large potholes changed the accessibility of the road on an hourly basis.
As the height of tourist season to the popular resort town of Puerto Peñasco was about to go into full swing, the route to Rocky Point was diverted through the wash by city officials in order to widen the overburdened bridge and complete several repair projects. The work was fraught with delays and disappointments, including relentless flooding and accidental damage caused by construction workers. While the work on the bridge continued, travelers followed the detour through the wash road just yards from the bridge.
As the road conditions through the wash changed, travelers were advised at times to enter Mexico via Yuma Arizona. From there, travelers were directed to take the paved, Federal Highway 3 to Rocky Point. The Yuma route added considerable drive time for those traveling to Puerto Peñasco, as the distance from Yuma to Rocky Point is approximately 268 miles. The distance from the Lukeville border, through Sonoyta to Rocky Point is approximately 68 miles.
The bridge is scheduled to officially reopen all lanes of traffic in mid-October.
For more information, please contact:
Sea Side Reservations
7655 E Redfield Rd. Suite 3, Scottsdale, AZ 85260
TEL (602) 404-2982 FAX (602) 404-2986
info(at)seasidemexico(dot)com