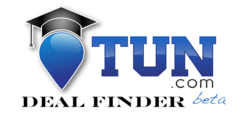 We are constantly finding more merchants committed to helping students and now we are able to bring that information to the students while they are on the go with the intuitive Deal Finder mobile apps
New York, NY (PRWEB) September 19, 2012
The University Network (TUN), an advocate for college students, announced today the release of "Deal Finder," a free mobile app that helps students save money locally.
Deal Finder for Android and Deal Finder for iPhone help students find nearby deals everyday on the goods and services they regularly spend money on, including food, entertainment, nightlife, beauty, fitness and even doctor visits. With over 12,000 participating merchants nationwide, Deal Finder provides local deals and discounts for college students nationwide.
"Our goal is to help students save money every time they open their wallets" declares TUN's CEO Peter Corrigan. "We are constantly finding more merchants committed to helping students and now we are able to bring that information to the students while they are on the go with the intuitive Deal Finder mobile apps" Corrigan notes.
TUN has been helping students save on regular expenses since its inception, first with its website TUN.com and now with Deal Finder. For example, the Deal Finder app will help students in New York find deals such as 2-for-1 appetizers on Fridays at Tonic, 25% off all dance classes at Stepping Out Studios, and 20% off purchases at Club Monaco. Students using Deal Finder in the Los Angeles area will see deals like 20% off monthly memberships at RWS Crossfit, 10% off food orders at Sak's Teriyaki, and 50% off waxing and facial services at Jeneal Skin Correction Center.
TUN's Deal Finder has all the functions that one expects from a hyper-local app. Users can choose from 3 view options (Map View, List View and Augmented Reality View), search areas near and far for deals, and even filter results by business type, time and day. Students can also share deals through social media, get directions and call businesses right from the app.
About TUN
TUN's core mission is to help college students save money. TUN acts as an advocate for students by encouraging local businesses to offer student deals. TUN also promotes the discounts offered by local businesses that are already committed to helping students. TUN has rapidly grown since its inception in 2010 when it became apparent that college students would need all the help they could get to deal with the rising cost of higher education and increasing student loan debt.